Among the other decisions on Monday, the government will raise the import duty on sugar to 40% from the current 15% to curb cheaper inflows from overseas. (Photo: Reuters)
The cash-starved sugar industry, hit hard by arbitrary fixing of raw material prices by states, got a fresh lease of life on Monday as the central government stepped in to provide additional subsidised loans of around Rs 4,400 crore and almost triple an import duty on sugar.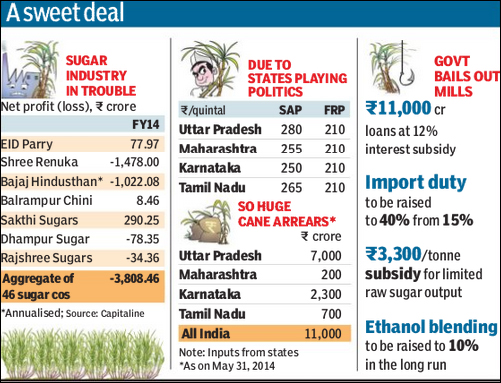 However, the industry needs to assure the Centre that cane arrears amounting to Rs 11,000 crore as of end-May, including roughly R7,000 crore from Uttar Pradesh, will be cleared at the earliest, food minister Ram Vilas Paswan said.
After a meeting of key ministers as well as bureaucrats at the behest of Prime Minister Narendra Modi, Paswan said the government has now decided to give interest subvention of up to 12% on bank loans against the excise duties paid by mills over five years instead of three years as decided in December.
This means mills, which were already offered subsidised loans of Rs 6,600 crore by the Cabinet Committee on Economic Affairs (CCEA) in December, would get an additional Rs 4,400 crore, thus totalling Rs 11,000 crore of cheap loans. However, the loans will have to be used exclusively for clearing cane arrears. So far, mills have availed of loans of Rs 4,000 crore under this facility.
Among the other decisions on Monday, the government will raise the import duty on sugar to 40% from the current 15% to curb cheaper inflows from overseas. It will also renew a commitment to make mandatory blending of ethanol with petrol at a 5:95 ratio with vigour and seek to double the blending level in the long run to fetch more buyers and ensure competitive prices for the cane by-product. The government also decided to fix the subsidy for limited raw sugar production at Rs 3,300 per tonne until September 2014, instead of reviewing it every two months.
Responding to the policy decision, shares of key sugar companies on the BSE gained by up to 10.3%, vastly outperforming a 0.3% dip in the Sensex. BSE-listed sugar companies widened their losses to Rs 3,808 crore in 2013-14, compared with Rs 1,481 crore of losses in the previous year, mainly on high cane prices fixed by states like Uttar Pradesh, also known as the state-advised prices (SAPs) and low realisation from sugar sales due to a fourth straight year of surplus production.
Importantly, at Rs 2,800, or roughly $46, a tonne, the cane price in Uttar Pradesh in 2012-13 was the highest in the world way above $28 in Brazil, $27 each in Thailand and Australia while its recovery rate of 9.2% is among the lowest in the world. The UP government kept the SAP at Rs 2,800 per tonne in 2013-14 as well after mills said they could not crush cane beyond a price of Rs 2,200-2,250 per tonne. Such a decision by mills compelled the state to offer some incentives to mills and prompted the Centre to announce cheaper loans and subsidy for raw sugar production, among others, earlier this marketing year.
We dont have any problems to announce these incentives formally if millers are ready to make payments. If they give assurance today, we will announce incentives today itself, Paswan said. Some of the decisions will be notified by the ministries concerned, while some require the approval of the Cabinet, he added, without elaborating. However, millers said while the food ministry can notify the raw sugar incentive itself, other proposals may need Cabinet clearance.
Former CACP chairman Ashok Gulati said: If the increase in ethanol blending from 5% to 10% is implemented quickly and molasses markets are freed up completely, it can bring in liquidity to clear some of the cane dues. But long-term solution lies in aligning cane prices to prices of sugar and its by-products.
Hailing the decisions, Indian Sugar Mills Association director-general Abinash Verma said: There is a need to allow mills to at least cover their cost of producing sugar. A 40% duty on sugar imports would definitely improve the market sentiments and boost domestic sugar prices, he added.
However, some hurdles remain. Verma said that unless tough eligibility criteria set for availing of loans are relaxed, We expect Rs 2,500-3,000 crore loans may finally get disbursed out of the approximately Rs 4,400 crore claims that might come up. The finance ministry earlier this year rejected the sugar industrys plea to ease eligibility criteria.
Moreover, even a decade after the 5% ethanol blending programme was first first approved and endorsed at various stages subsequently to reduce pollution, the country had achieved only 2% blending by the end of the 2013-14 fiscal.