A 65% year-on-year jump in gold imports in June, triggered by a partial lifting of import curbs on the metal and a fall in its global prices, led to the countrys trade deficit widening to an 11-month high of $11.76 billion in June and overall imports returning to positive growth territory for the first time in 13 months, reports fe Bureau in New Delhi.
The sharp rise in gold imports to $3.12 billion last month came after seven straight months of declines, which helped the country contain its current account deficit at $32.4 billion or 1.7% of GDP in FY14 against $87.8 billion or 4.7% of GDP in the previous year.
The trade deficit during the first quarter was $33.08 billion, 31.5% lower than the $48.32 billion recorded in the same period last fiscal.
However, rating agency Crisil said: In comparison with the last quarter, merchandise trade deficit was higher by $4.5 billion, suggesting potential widening of current account deficit in Q1 fiscal 2015. For fiscal 2015, we expect CAD to widen to 2.2% of GDP.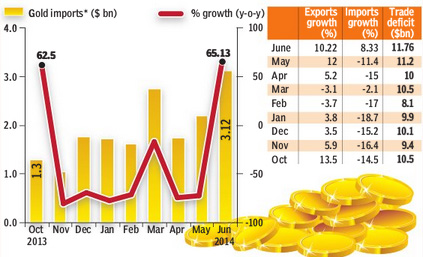 Meanwhile, exports recorded double-digit growth in June for the second consecutive month at 10.22% to $26.47 billion, mainly driven by textiles (up 14.4%), petroleum products (38%), engineering goods (21.6%), leather (15%), marine products (27.5%) and oilseeds (44.4%).
The good news on the export front follows last weeks sanguine economic data which said retail inflation fell to a record low of 7.31 in June and industrial production in May registered the fastest growth in 19 months at 4.7%. Of course, deficient monsoon rainfall continues to be a worry.
Also, in another indicator of economic revival, non-oil imports which includes capital goods in June grew 7% to $24.9 billion.
Anticipating high gold imports impacting the trade and current account deficits, finance minister Arun Jaitley kept the gold import duty unchanged at 10% in the recently announced Union Budget. To boost gems and jewellery exports, which uses gold as an input, the commerce ministry has been demanding further relaxation of gold import curbs. Gems and jewellery shipments declined by 5% in June to $3.31 billion.
The RBI had in May allowed more private agencies such as star trading houses to import gold. While export growth is likely to gain momentum with a global recovery, imports too will rise as some of the restrictions on gold imports have been lifted and imports of oil, consumption and investment goods pick up with a recovery in GDP growth, analysts said.