Even during volatility in the equity market, gold as an asset class has very negative correlation with other asset classes
Sundeep Sikka
Gold is a unique asset which plays many roles in investors portfolio. Amongst Indians, gold is an investment more than jewellery, due to its benefits and the importance it carries as a tradable liquid asset.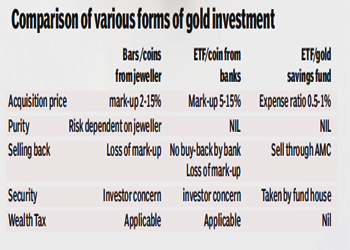 It is one of the foundation assets for Indian households and means to accumulate wealth from a long-term perspective and has been an attraction among Indian investors due to financial uncertainty and inflationary pressures.
Given the market scenario, where gold as an asset class has garnered higher returns than other asset classes, such as equity and debt, it is considered as a most lucrative asset class. Even during volatility in the equity market or the worst economic scenarios, gold as an asset class has very low/negative correlation with other asset classes, which, in turn, offers diversification benefits to investors.
In the last decade, the price of gold has surged from R4,474 (10 gms) in FY01 to R31,000, in current time. The industry has witnessed almost R7,000 crore of purchases in gold ETF and gold funds during the last 18 months. In comparison to other asset classes, gold has consistently delivered growth. With higher inflation rates, many investors think gold is the best asset class to invest in, during a phase of rising inflation.
We have witnessed in the past that the performance of gold asset class has been positive and even during the adverse economic calamities, gold has performed really well. As macroeconomic uncertainties continue to haunt global financial market, Investors are infusing money in gold ETFs. The recent QE3 by the Fed and long-term refinancing operation (LTRO) from Europe created a spike in the price of gold. As long as there is excess liquidity in the world market gold prices are likely to remain firm.
Gold Prices are currently hovering around USD 1,735/Oz level not breached since March 2012. International gold prices have appreciated by more than 7% since the start of August 2012. Gold prices in India are at a striking distance from the R32,000 per 10 gram mark. The two major global events that have triggered this rally are optimism about a euro zone bailout fund and third round of quantitative easing by February. Physical jewellery demand has dried up in India and China due to, record high prices. We see Gold as a very attractive return asset class for retail investors.
There are few factors which support the gold price rally such as currency debasement due to quantitative easing and loose monetary policy, rising commodity and energy prices, geopolitical uncertainties and deceleration in global growth.
The current macroeconomic environment seems conducive for higher gold prices. With the onset of festival and marriage season, there will be further increase in gold demand. The volumes on ETF are growing with subsequent festive seasons. In India rising gold prices and continuing investment flow in gold has pushed the size of assets held through gold exchange traded funds to an all-time high of R11,198 crore. Gold ETFs & gold fund of fund are at transparent prices across the country. There are few factors which makes a gold ETF a much viable option than physical gold.
Pricing: ETF unit is linked to the price of 1 gram of gold. No making charges or premiums involved. Gold sold by banks and jewellers attract a huge mark up/making charges. In the case of bank the mark-up can be as high as 15%.
Purity: Whenever an investment is done in gold ETF, each unit is backed by gold with a purity of 99.5%. Banks provide gold with a similar purity but charges a huge premium. While buying gold from the jeweller, purity is the biggest risk.
Safety: Storage is not an issue/risk while investing in paper gold. Each unit is backed by physical gold and held with the custodian.
Affordability: Investments in paper gold generally have minimum lot size, is as low as 1 unit which is generally equivalent to 1 gram of gold. Reliance gold savings fund allows investors to invest in gold with the amount as low as R100 as systematic investment plan (SIP).
Tax efficient: Investments in gold ETF and gold fund of fund are not subject to wealth tax also.
While pricing, purity, safety and tax efficiency factors make gold funds more lucrative to invest in paper gold, there is yet another way of investment which is gaining popularitySIP in gold savings fund.As we all are aware that gold savings fund provides the investors the benefit of investing in paper gold without even having a demat account or having the expertise of trading on exchange.
Systematic investment plan attracts investors, since it not only provides the benefit of investing small amount in units of gold but also helps the investor to get better average cost of purchase. Investors can choose to invest a small amount every month for a specific time period. It works as a long-term disciplined technique which allows you to accumulate gold in small amounts regularly for long-term wealth creation.
The writer is CEO, Reliance Capital Asset Management