Despite domestic gold prices trading near an all-time high, physical dealers of the metal are reporting a healthy festival demand from Indian buyers. As per Bombay Bullion Association (BBA) estimates, in the two weeks leading to Dhanteras two days ahead of Diwali and an auspicious day to buy the yellow metal about 22 tonnes of gold has been imported.
This is just about 15% lower than the imports made in a similar duration last year, says Suresh Hundia, member and former president of BBA. He adds that, however, the demand is skewed towards gold coins and bars. Indian dealers estimate that so far in 2012, 700 tonnes of gold has been imported.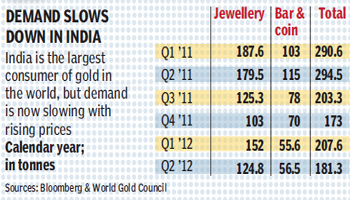 As per UBS, gold buying in India will be stronger in the fourth quarter compared to the previous three months and will at least be as strong as in the same period in 2011. Quarter-to-date, performance is already higher by 5% compared with the first two months of the third quarter, and compared with the same period in the fourth quarter of 2011, it said.
For the quarter ending June 2012, while the total consumer demand in India fell by 38%, total bar and coin investments halved to 56.5 tonnes compared to the same quarter the previous year, shows data.