FMCG major Godrej Consumer Products Ltd (GCPL) has acquired personal care brand Tura from Nigerias Tura Group. This follows GCPLs acquisitions of Rapidol and Kinky businesses in South Africa over the last two years.
While the deal size has not been disclosed, industry analysts peg the amount anywhere between Rs 160 crore and Rs 200 crore.
Tura, established in 1986, is one of Nigerias leading beauty companies with sales network achieving over 70% net distribution reach. Currently, the company manufactures and distributes a range of products, including soaps, moisturising lotions and skin-toning creams.
We expect the transaction to provide us a tremendous platform for value creation in west Africa. Tura helps us leapfrog in our endeavour to build a pan-African presence for our core categories such as personal wash and hair care, said GCPL chairman Adi Godrej while announcing the news.
According to GCPL managing director Dalip Sehgal, the companys priority now is to take the Tura brand to other countries in Africa. Piysh Nair will continue to be the CEO of Tura Group, he disclosed, while adding the company has no plans to launch Tura brands in India as of now.
GCPL intends to build on Turas position and further accelerate growth in the companys core categories by leveraging the strength of Turas beauty credentials in Nigeria and other West African countries, its strong distribution and consumer reach and its capable management team, he said.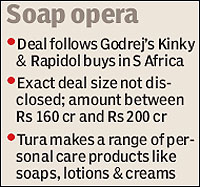 Godrej and Tura Group have common operating philosophies and we look forward towards this integration and expansion of our footprint across Nigeria and other west African countries, said Tura Group MD and CEO Piyush Nair.
Godrej Consumer Products recently got board approval to raise Rs 3,000 crore to fund its expansion plans. It has been scouting for acquisitions in the last few years and said it could spend up to Rs 1,000 crore for the purpose.
Besides, the company is eyeing the global household business of its erstwhile partner, Sara Lee. It is buying Sara Lees 51% stake in the JV for about Rs 800 crore.