Gionee Elife E7 Mini in India will be available at Rs 18,999
After the success of Elife E7, Gionee Smartphones on Tuesday announced the arrival of its Elife E7 mini in India.
The Gionee Elife E7 mini boasts of the 13 megapixel rotating camera with a 360-degree rotation which is a great for selfie lover as having just one camera means that front-facing shots are finally just as good as shots taken with a rear camera. Further the Gionee Elife E7 Mini camera lens comes enabled with Blue Glass Filter which effectively filters infrared and gives more natural and clearer images.
Sporting a sharp and vivid 4.7 High Definition IGZO screen, the unibody Elife E7 mini boasts Elife series unrivalled design credentials powered with the super fast 1.7 GHz Octa Core Processor which enables brilliant high performance as well as high efficiency at low power consumption.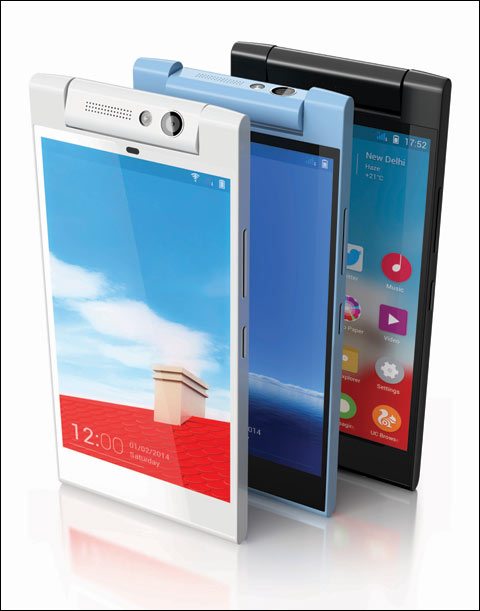 Beside its powerful processor and stunning swivel camera, the super slim Gionee Elife E7 Mini comes with a 16 GB inbuilt memory, OTG Support, Professional music system and all at 8.6 mm thin. The Dual Sim E7 Mini is powered by a 2100 mAh battery to provide a long lasting standby time.
Gionee Elife E7 Mini comes with built in 12 Levels of Auto Beauty feature to ensure that the user will always look flawless in every picture. EGionee Elife E7 Mini also has various cool and innovative yet useful modes for the photography lovers including, Eraser mode. Panorama shot, Gesture Mode and HDR Mode which enables a superior picture capturing experience.
The response to Elife E7 has been incredible, and were excited for customers to experience the new Gionee Elife E7 Mini as we think customers will love these thin, light, powerful new smartphones. said Arvind.R.Vohra, Gionee Smartphones
Designed for the premium smartphone lover who want the best in mobile technology without the massive size and believes in style with substance, the super stylish Gionee Elife E7 Mini is available in vibrant and bold colors including Purple, Blue, Graphite Black and White.
Gionee Elife E7 Mini in India will be available at Rs 18,999