Gammon Infra informed BSE that the terminations are by mutual agreement between the NHAI and the subsidiaries of the company. Reuters
The infrastructure arm of Gammon India, Gammon Infrastructure Ltd and National Highways Authority of India (NHAI) have mutually agreed to terminate concession agreements of two NHAI road projects, as they remained non-starters due to lack of land clearances, after two years of being awarded.
The two projects that were awarded to Gammon in 2012, include Yamunanagar Panchkula project in Haryana and Birmitrapur Barkote project in Orissa.
Gammon Infra informed BSE, on Tuesday, that the terminations are by mutual agreement between the NHAI and the subsidiaries of the company that were incorporated to implement the projects.
Also read:
Raghuram Rajan's RBI keeps interest rates on hold, inks status quo for bank loan EMIs
BSE Sensex hits new record high even as Raghuram Rajan's RBI bats for status quo on repo rates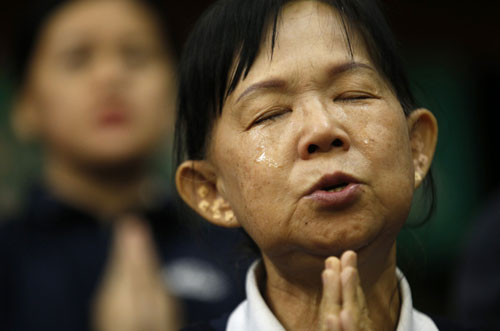 A Taiwanese volunteer assisting relatives of passengers on board Malaysia Airlines MH370 cries as she prays for the passengers at the Lido Hotel in Beijing. The last words from the cockpit of a missing Malaysian jet were a standard "Good night Malaysian three seven zero", Malaysian authorities said, changing their account of the critical last communication from a more casual "All right, good night." (Reuters)
The concession agreement on the four laning of UP/Haryana border Yamunanagar-Saha-Barwala- Panchkula section of 71.64 kilometre to 179.249 kilometre was signed in July 2012. The total project cost of the Yamunanagar project was Rs 1,375 crore, and the NHAI grant was to the tune of Rs 279 crore.
The concession agreement for rehabilitation and upgradation of Birmitrapur to Barkote section of NH 23 (211.20 kilometre to 336.81 kilometre) was dated May 31, 2012. The total project cost of the project was Rs 1,000 crore, and there was Rs 311 crore of NHAI grant for the project.
According to a senior official in Gammon, the company had achieved financial closure on both the projects. While the line of credit for the Yamunanagar Panchkula project was to the tune of Rs 950 crore, for the Birmitrapur Barkote project it was Rs 500 crore. However, nothing was withdrawn from these, as the projects never took off.
"We realised that the time taken for land clearances was just too long. NHAI was also trying to get those clearances, but since nothing really was working out we mutually decided to end the concession agreements," said the official.
According to industry sources, these projects may come up of re-bidding at a later date. However, that would be some time away as NHAI may want to get substantial land clearance before it puts these projects out for bidding again.
Gammon Infrastructure Projects Ltd's share price closed up 1.59% at Rs 7.65, on BSE, on Tuesday.