Ford has always been a company that established itself as a brand offering some of the best automobiles in the world. (CarDekho)
Ford has always been a company that established itself as a brand offering some of the best automobiles in the world. Even the present industrial norm of the assembly line manufacturing was a brain child of this very company. And when such a company announces a vehicles launch, that too as a technologically advanced model, you better listen. With innovation as its core objective, Ford announced the compact SUV Ford EcoSport with an aggressive price thanks to its 1.5 litre engine and a sub four meter length. Both these features enabled it to get tax rebate and it joined the ever increasing camp of compact vehicles. Year 2013 saw a wide range of compact vehicles - compact sedans, compact SUVs and hatchbacks. With the ever increasing interest in automobiles, consumers were prepared to shell out that extra buck to get a more trendy, performance oriented vehicle.
Comparison: Ford EcoSport vs Renault Duster
Another important reason is the customer interest in owning an SUV. The SUV market has certainly picked up over the years. While it was a transport vehicle in the form of Bolero and Safari, the interest in owning a power beast which could rule any terrain became an acquired taste. This helped the sales of SUVs to rise.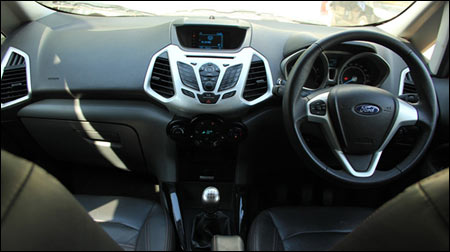 2013 was an year for two of the major forces in SUV segment, Renault Duster and Ford EcoSport. Both the companies managed to, in the words of Steve Jobs, create a dent in the universe, at least the one filled with automobiles. With a fuel tank capacity of 52 litres and an average highway mileage of 16.15 kmpl, the Ford EcoSport was a clear suitor for the winning position. The car comes with a 1.5-litre 16V Ti-VCT petrol engine which churns out a maximum power of 110.46bhp while the torque peaks 140Nm at 4400rpm.
Also check: Ford EcoSport photos
Among these Ford EcoSport did some really impressive scores, infact it stood as one of the very successful offerings from the company. However competition emerged from all corners. While the vehicle had to compete with its co launched vehicle such as Renault Duster and ilk, it faced competition from its predecessors and from cars from of other segments such as sedans, hatchbacks, SUVs, etc. Being a compact vehicle was not easy and Ford EcoSport proved to be a winner. The prime reasons to appreciate Ford EcoSports performance are, the price and the design. The design factor is already discussed and another important advantage of the size is the increased automobiles on road. In this environment, the appeal of an SUV is definitely glamorized by making it compact and suitable to be used on some of the meanest roads of India. Now the second factor, price. Offered at Rs 6.26 lakhs to Rs 9.66 lakhs for the top end, this car grabbed eyeballs and Ford also created quite a buzz about its specifications taking random surveys from people enquiring the expected engine displacement and the mileage of the vehicle. This was a price at which quality, luxury SUVs seem a dream and regular hatchbacks seem too pricey and most importantly sedans seem out of cool factor for those looking for an adrenaline rush through visual aesthetics. It is about the style statement one wants to maintain. While owning a sedan depicts class, owning an SUV depicts the youth, energy and risk taking individuals. All these factors along with the assurance of a brand as pious as Ford enabled the company to see promising sales.
While all these reasons are kept aside, the future of this vehicle however may prove to be a little more tough. With releases of several budget vehicles and advertisements of sedans such as Skoda Rapid targeting youth, the urge to look professional is also taking shape, all be it gradually. If a different car comes up with an eco friendly or fuel efficient vehicle, customers will definitely turn towards that. But until any such development, for now, Ford can relax and reap the profits out of massive sales of EcoSport.
Live: BSE Sensex