The global economy is slowly strengthening with global GDP growth estimated to rise to 3.5-4% in 2014. However, it will be interesting to see how the markets pan out over the next 6-12 months. Post the financial crisis, central banks had acted in a coordinated manner moving towards an easing policy.
Now the four major central banksthe Fed, Bank of England, ECB and the Bank of Japanare likely to show policy divergences. The Fed and BoE are expected to slowly start raising interest rates, while the ECB and Bank of Japan are likely to continue easing. One is going to see increased activity and volatility in the currency and bond markets.
There is one worrying trend seen across big global banks. Now most global banks compete fiercely on league table rankings. Theres a new league table for banksit is rankings based on the fines and settlements paid! Since 2009, about 20 global banks have paid fines in excess of $100 billion to the US authorities. These fines have been for misselling, anti-money laundering violations, fraud and other compliance violations. Banks are doing the maximum amount of hiring for compliance and legal. JP Morgan, which has paid more than $25 billion in fines, has recently hired 13,000 new employees for regulatory compliance! Globally, there is a huge regulatory upheaval due to increased vigil. The other concern has been the growth of shadow banking. Many say that the future financial crisis lies in shadow banking in emerging markets. The definition of shadow banking is still debatable. Some define it as lending by institutions other than banks, and this comprises a quarter of the global financial system or an estimated $71 trillion. China has long been identified as a hotspot for shadow banking, but the Chinese government has enough of resources to bail out the system. Nonetheless, globally regulatory authorities are still grappling with the rapid growth of shadow banking.
A lot of regulatory arbitrage happens because of shadow banking. In fact, increased compliances and high capital requirements are also some of the reasons why shadow banking is getting larger. As far as the Indian banking system is concerned, there are many key issues that are being widely discussed in the recent period.
First is the issue on non-performing loans (NPAs). Yes, it is a crucial problem, but I have come across various media reports that have grossly exaggerated this, saying that real NPAs are almost double the declared level and that close to 45% of restructured loans can turn into NPAs. This is incorrect. There is no denying that public sector banks in particular have a lot of cleaning up to do, but many of the loans that went bad were not due to poor credit norms, but because the necessary approvals of the projects financed were not forthcoming and, therefore, the project was not generating cash flows. With a change in the economic environment, some of these projects will get off the ground and, going forward, bank NPAs will start declining.
To my mind, there are deeper-seated issues that need to be addressed than proposing the creation of a National Asset Management Company to transfer bad loans of PSU banks. We first need to improve the performance of debt recovery tribunals and strengthen bankruptcy laws in the country. We also need to encourage more private equity players to pick up distressed assets.
The second key issue is raising capital for PSU banks. This is a problem that can no longer be postponed. Total capital requirements of PSU banks is estimated at $100 billion over the next five years to fulfil Basel III regulations. This means that these banks will need close to $20 billion each year. Hypothetically speaking, if the government were to reduce its current shareholding in listed PSU banks to 55%, it would be able to raise $6 billion.
Given the governments fiscal constraints, there is a need to evaluate a variety of other options. Issue of non-voting shares and the incentive could be receiving higher dividend. It is a good proposal for PSU banks to off-load non-core assets. Estimates state that a few PSU banks could raise about R25,000 crore by off-loading some of their stakes.
Following the PJ Nayak committee report, a number of ideas are floatingfrom transferring the governments holding in banks to a Banking Investment Company, which will have its own governance structure, or replicating a Temasek-like structure or creating a holding company.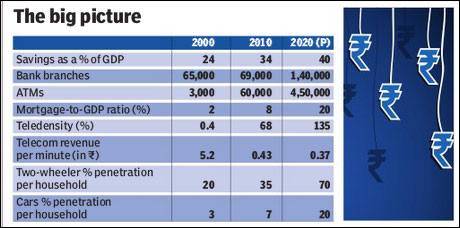 But the most important driving point of the PJ Nayak report was the focus on governance and, in particular, the need to get PSU banks out of the purview of the 3Csthe CBI, CVC and CAG. This would allow banks to take commercial decisions fearlessly without being hauled up later for a wrong decision.
On new banking licences, I think it is high time RBI clearly articulated its view on whether corporate houses should be allowed to set up banks or not. Differentiated banking licences is a welcome proposal. However, the new licensing norms as they stand today will need to be reviewed as they are far too restrictive.
Coming to bank mergers, I was quite happy to see the recent reports where SBI chairperson Arundhati Bhattacharya said that the time is conducive for consolidation of five of SBIs associate banks. I have always maintained that India needs a few large banks and not many small banks.
On the insurance side, I think there will be more consolidation in the near future. Currently, there are far too many players in both life and non-life.
I hope there is finally some leeway on raising foreign shareholding limits to 49%, be it through the FDI route or FII route. This can immediately bring in close to $2 billion into the country. Going forward, one hopes that on the regulatory front there will be more stability.
The crux of the Indian financial system is the lack of financial penetration. Financial penetration as a percentage of GDP for mortgages is 9%, mutual funds 7%, life insurance 3.2%, and non-life insurance 0.8%. I remain optimistic on the growth of the Indian financial sector.
In terms of future trends, my assessment is that there is enough business in our core geographiesmore than looking to grow an international footprint, opportunities at home must be utilised. Intra-regional trade is going to get stronger, so more banking and financial products will need to be designed to suit these growing requirements.
The retail customer is going to be more demanding and less loyal. The future of banking and finance is going to revolve around how technology changes and evolves. Think 2030what would the relationship between a bank and its customer look like If pizzas are being delivered by drones today, one can be imaginative enough to believe that banks too may possibly be run by drones! Drones may well take care of risks like reckless lending, greed for higher bonuses and other moral hazards. But my gut feel tells me that financial services will move towards more personalisation of services, so I think we will all still have our jobs!
(Excerpted from Deepak Parekhs speech at the BFSI conference organised by SBI Capital Markets on June 12)
The author is chairman, HDFC