foreign institutional investors
Even as foreign institutional investors' ownership in Indian companies stood at its highest as of three months to December 2012, foreign investors have further trimmed their stake in the troubled companies from capital-intensive infrastructure, capital goods and real estate space. However, a compilation of their latest FII holdings also indicate the pace of their elimination slowed down to an extent compared to the last quarter.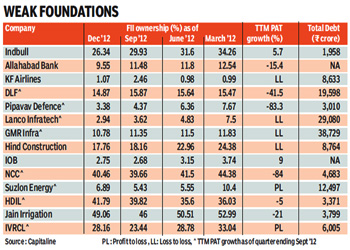 For the quarter ended December 2012, FIIs reduced their holdings in Indiabull real estate by 3.6% and also brought down their stake in Pipavav Defence, Lanco Infratech and GMR Infra by 0.99%, 0.68% and 0.57%, in the order. Even debt-ridden DLF and Kingfisher Airline witnessed a reduction in FII ownership by close to 100 basis points.
Generally, Foreign investors do not favour companies that consistently under-perform the market or fail to strengthen their financial performance. Not surprisingly, for companies with capital intensive business structure in particular, higher debts have made them unpopular among FIIs besides the fundamental slow-down of the sector like infrastructure and constructions.
For a third consecutive quarter, FIIs reduced their ownership in Indiabull real estate, Hindustan Constructions, Lanco Infratech, Pipavav Defence, and GMR Infra. In the current financial year so far, their possession in these companies have come down by 8% to 1%.
They have also trimmed their holdings in smaller public sector banks, like Allahabad Bank and Indian Overseas Bank by about 3% and 1%. These banks continue to reel under the pressure of with deteriorating asset quality.
Corporate governance is also cited as a decisive factor for foreign investors liking of a company. Interestingly, during the December 2012 quarter, FIIs upped their holdings in HDIL and IVRCL, the companies that witnessed their stocks tumble in the third week of January 2012 amidst concerns related to such mid-cap companies' elevated debts and high promoter pledging. Investors turned cautious after HDIL, vice-chairman and MD Sarang Wadhawan sold 50 lakh shares even as 98% of the total promoters' stake remain pledged.
Since then, foreign institutions like Citigroup Global and Credit Suisse have sold about 1.48 crore HDIL shares shows exchange filings. Even IVRCL has witnessed liquidation of about 56 lakh shares by FIIs like BNP Paribas, Merrill Lynch and Barclays Capital Mauritius.