FIIs have raised holdings in Indian companies, putting their bets on a better performance by them.
As the concerns around Indian rupee depreciation, current account deficit and the US Federal Reserve tapering softened in the quarter ended December 2013, the foreign institutional investors (FIIs) went ahead and raised their holdings in Indian companies thereby putting their bets on a better performance by them.
The move has also coincided with the election results across five states in November-December and several leading global and domestic finance houses projecting Narendra Modi's Bharatiya Janata Party-led NDA to form the next government in the country.
Out of the 25 companies that are part of the benchmark Sensex at the Bombay Stock Exchange and that have announced their shareholding pattern for the quarter ended December 2013, 18 companies have witnessed an increase in their FII holding during the quarter. Only seven companies saw a decline in their holdings.
Also, 12 of these 18 companies saw their FII holdings at their highest over the last five quarters. While the FII holding in Larsen & Toubro,
Tata Steel and Hindalco Industries Ltd went up by over 2 percentage points, their holding went up by over 1 per cent in six other companies including Maruti Suzuki India, HDFC Bank and Wipro.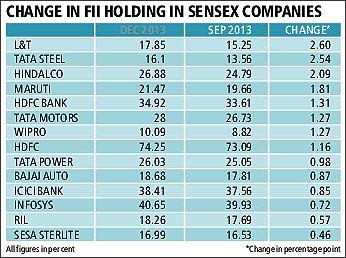 Hindustan Unilever and ITC Ltd that have seen their share prices rise significantly over the last couple of years were among the few that saw a fall in their FII holding during the quarter. Others in the list that saw their FII holding slip were State Bank of India (SBI), NTPC, Coal India, Bharti Airtel and Axis Bank.
An increase in FII holding in the Indian companies at this time clearly reflects their bullishness on the Indian markets.
It is interesting to note how the FII holding in most of these companies have changed since December 2007 when the markets were trading at similar levels.
While Bharti Airtel has seen its FII holding fall from 25.26 in December 2007 to 15.92 per cent in December 2013, Tata Steel, BHEL and SBI are the others that witnessed significant fall. Hindalco, HDFC, Axis Bank and Tata Motors saw the FIIs raise their holdings significantly. While it doubled in the six year period to 26.88 per cent for Hindalco, for HDFC it rose from 61.7 per cent in 2007 to 74.2 per cent.