As part of its attempts to meet the disinvestment target of R30,000 crore for the current financial year (FY13), the government on Wednesday approved the sale of 10% stake in Oil India (OIL) through the offer for sale (OFS) route. The sale is expected to fetch the exchequer around R3,000 crore.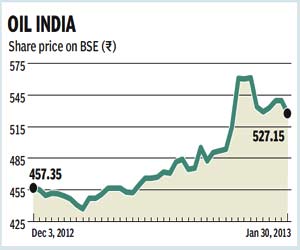 The stake sale has been scheduled for February 1 when the government auctions 6.01 crore shares (10%) in the oil & gas exploration, development and production (EPD) company. While the price for the stake sale has not yet been announced, it is expected that the government will offer the shares at a 3-5% discount to the prevailing market price.
The empowered group of ministers (EGoM), headed by the finance minister, has approved the stake sale and fixed the auction date for February 1. The floor price would be communicated to the stock exchanges an evening before the auction begins, said a merchant banker on conditions of anonymity.
Shares of Oil India declined 2.30% or R12.40 on Wednesday to end at R527.15 per share, with more than 3.2 lakh shares being traded on both the exchanges. Since the beginning of December, the scrip has risen over 15%. The benchmark Sensex has gained nearly 4% during the same period.
With the scheduled sale, the governments stake would come down to 68.43% from the current 78.43%. As against a target of R30,000 crore for FY13, the government has been able to raise only around R6,800 by diluting its stake in Hindustan Copper (R800 crore) and NMDC (R6,000 crore).
In addition to the Oil India issue, the government has also finalised stake sale in NTPC.
According to reports, the NTPC stake sale would be scheduled around 10-12 days from the completion of the Oil India OFS. The government intends to raise around R12,000 crore by selling around 9.5% stake in the power generation major.
OFS has become the most preferred route for many companies that are looking at diluting a part of the promoter stake. The transaction is completed within the market hours in one single day in a transparent manner.
Its is also one of the permitted route for promoters who want to bring down their holding to comply with the minimum public shareholding norms.