International projects, margins disappoint; eclipse revenue growth
Voltas profit after tax missed our and the Streets estimates by a wide margin. The principal reason for this miss was poor Ebit (earnings before interest and taxes) margins in the Electro Mechanical Projects (MEP) segment (at roughly 1.0%) due to cost overrun in its international projects. While some of these issues are likely to be sorted in the medium term, uncertainty over orders and margin recovery plague earnings visibility.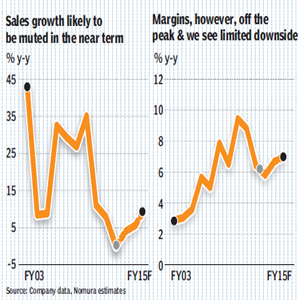 Management also re-iterated concerns on: (i) weak international order inflow pipeline and that the Abu Dhabi airport order being the only big ticket project visible; (ii) continued challenges in the Saudi and Qatar markets due to visa restrictions impacting profitability, and (iii) new projects continue to be bid at 4-5% margin levels in the MEP segment, while electrical (Rohini) and water segments are facing execution challenges. We now build in further cut in margin in MEP segment over FY13-15F (forecast) along with higher working capital intensity; accordingly our earnings estimates are down 4%-7% over FY13-15F .
Catalyst: Domestic and Middle East capex revival; strengthening of crude oil prices
Valuation: We now value Voltas at 12x (times) in line with mid-cycle multiple (previously 14.0x) and average of FY14F/FY15F EPS (earnings per share) to arrive at our TP (target price) of R111. We reiterate our Neutral call.
Q2FY13 results: Revenue growth in line: Net sales at R11.6bn (+5% y-o-y) beat our estimates by 7%, though marginally lower than consensus expectations. On the back of lower-than-expected margins, Ebitda (earnings before interest, taxes, depreciation and amortisation) at R440m (+61%y-o-y) missed our/Street estimates by 16%/27%. The key reason for the miss was poor margins in the EMP segment. On the positive side, revenue growth in all major segments beat our expectations. EMP revenue grew +2.0% y-o-y, Engineering Products at -5.0% y-o-y and UCP (Unitary Cooling Products) +22.0% y-o-y.
Profitability was impacted by cost overrun in its international projects. EBIT margin at 1% was significantly lower than our expectation (at 5.5%). The UCP segment recorded strong performance with high top-line growth and an improved margin of 7.8%. Recurring PAT (adjusted for one-time gain of R145m) at R326m was significantly lower than our and streets estimates.
Key takeaways from conference call
Overall, management commentary failed to provide any cheer. We note no positive highlights from the call; even the UCP segment that did well is likely to be at risk (on margins, as this was mainly due to high volumes). Rising uncertainty on new orders and margins will continue to put pressure on the stock price; and we recommend that investors stay on the sidelines for now.
EMP segment: No further provision in cost at Sidra in second quarter, while project revenues continue to be booked at 0% margin. Apart from Sidra, some other projects also faced additional provisioning in Q2. Amongst various international markets, the company remains positive on Qatar. Water management and Rohini Electricals also impacting EMP segment margins as both of these businesses are still in the red.
Domestic orders: The order visibility in domestic markets remains challenging due to policy paralysis and capex cycle slowdown. Management highlighted that due to overall weak economic scenario and tight liquidity conditions, it is finding difficult to get money from the customers.
UCP segment: The company has gained market share on the back of Samsung exiting window AC. The better margins in Q2FY13 were due to higher operating leverage. Broadly margins are expected to remain in the range of 7-7.5%.
Cutting estimates; remain Neutral: We are marginally lowering our revenue estimates on account of lower order visibility due to higher competition intensity & execution challenges. We expect low single digit revenue growth of 4.6% y-o-y and 5.6% y-o-y growth in FY13F & FY14F respectively.
Nomura