L to R: Anant Goenka, Wholetime Director & Head ? New Media, The Indian Express Ltd, R Chandrashekhar, President, Nasscom, J Satyanarayana, Secretary, DeitY (retd), and RS Sharma, Secretary, DeitY, at the Express Tech Sabha.
When the three award winners on the concluding day of the 16th edition of Express Technology Sabha came on the stage, there were enthusiastic shouts of cheer. Those familiar with the common link among them said, as if in unison,
Kal, aaj aur kal!
(Yesterday, today and tomorrow)
The obvious reference was to R Chandrashekhar, J Satyanarayana and RS Sharma, and the commonality was the position of Secretary, Department of Electronics and Information Technology (DeitY): While Chandrashekhar held the post sometime back, Satyanarayana retired from it just a few weeks ago and Sharma is, of course, the current incumbent.
But we at EC are sure that's not exactly how the trio looks at itself, for there are umpteen things in the twin domains of ICT and e-governance that each one is currently involved in. However, this linkage and several other connections where the paths of these three pioneers of e-governance in India have crossed kept the conversation going long after the award ceremony was over on the evening of June 14 at Hotel Radisson Blu in South Goa.
Here is a brief look at each of them and why they were given this award:
About R Chandrashekhar: Currently the President, Nasscom, Chandrashekhar was the Chairman, Telecom Commission and Secretary, Department of Telecommunication till March 2013. During his career in government, he held a variety of key assignments, many of them relating to the ICT sector, both in the Government of India and the State Government of Andhra Pradesh. He has extensive experience of formulating and implementing policies, strategies and action plans to foster the growth of the IT industry covering the entire ecosystem, including infrastructure, HR and e-governance.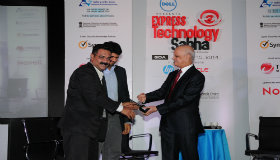 R Chandrashekhar (right) receiving the award from Raman Bountra of Dell
Why the award:He was chosen for the award for his crucial role in policy-making, and for strengthening the bond between the government and industry through public private partnershipsespecially in putting Hyderabad on the IT map of India.
About J Satyanarayana: Just retired as Secretary, Department of Electronics & IT (DeitY), J Satyanarayana is now headed for Seemandhra, where he will be advising the Chandrababu Naidu government on ICT and e-governance related issues. He has held several prior assignments in Andhra Pradesh, including Principal Secretary - Health, Medical & Family Welfare Department, Principal Secretary - IT and Communications and as CEO of the National Institute for Smart Government (NISG), which he helped found.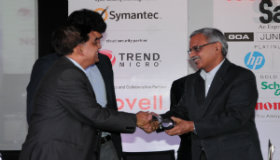 J Satyanarayana (right) receiving the award from Barun Lala of HP
Why the award:Satyanarayana has made wide contributions to the cause of eSeva, a one-stop shop for citizen services in Andhra Pradesh. In addition, he is primarily credited with shaping NISG as a Centre of Excellence in formulation of e-Governance and Capacity Building Roadmaps for various state governments as well as union territories.
About RS Sharma: Sharma has just taken charge as Secretary, Department of Electronics and IT (DeitY). Prior to this role, he was the Chief Secretary, Government of Jharkhand. He has had various other stints in the state, including Principal Secretary Public Health and Engineering, Secretary IT, HRD, Panchayati Raj, Personnel and Drinking Water & Sanitation, Principal Secretary to the Governor, and District Collector in Begusarai, Purnea and Dhanbad, among others. He was also the Director General of the Unique ID Authority of India (UIDAI) from 2009 to 2013.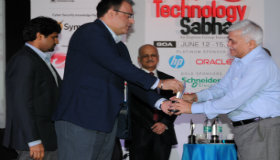 RS Sharma (right) receiving the award from Ranmeet Chahal of Oracle
Why the award: Sharma was chosen for his hands-on approach to projects and the tenacity in pushing through critical changes that make the way forward for good e-governance possiblemost notably in enabling the issuance of 600 million unique IDs, the Aadhaar nos., as much as nine months ahead of schedule.
Also at the Express Tech Sabha:
More Videos
Watch: Nilesh Goradia talks about security at Express Tech Sabha
Watch: Sunil Lalvani talks about mobile governance at Express Tech Sabha
Watch: LV Sastry talks about network connectivity at Express Tech Sabha
Watch: Alison Higgins talks about security attacks at Express Tech Sabha