We see earnings growth for banks sluggish at 4% year-on-year. Revenue growth is a challenge (9% y-o-y) despite healthy NII (net interest income) growth (15% y-o-y) primarily due to lower treasury income and higher provisions to meet the unhedged foreign exposure guidelines that will be implemented from this quarter. Sluggish loan growth due to a combination of cyclical and seasonal factors, NIM (net interest margin) compression and higher slippages will put pressure on non-banks as well.
Low treasury and high provisions to keep pressure on earnings: Q1FY15 earnings growth is likely to show a marginal improvement to 4% y-o-y from 2% y-o-y in Q4FY14, with public banks likely to report 7% y-o-y decline while private banks are likely to report 17% y-o-y growth. Lower earnings growth is primarily on the back of lower treasury income and higher provisions.
Revenue growth is likely to remain muted at 9% y-o-y due to weak treasury income but the impressive trend on NII appears to be intact (15% y-o-y for the sector and similar trends for public and private banks). Operating expenses growth is likely to remain high, especially for most public banks barring SBI, as they continue to build higher provisions for wage settlement and its consequent impact on retirement costs.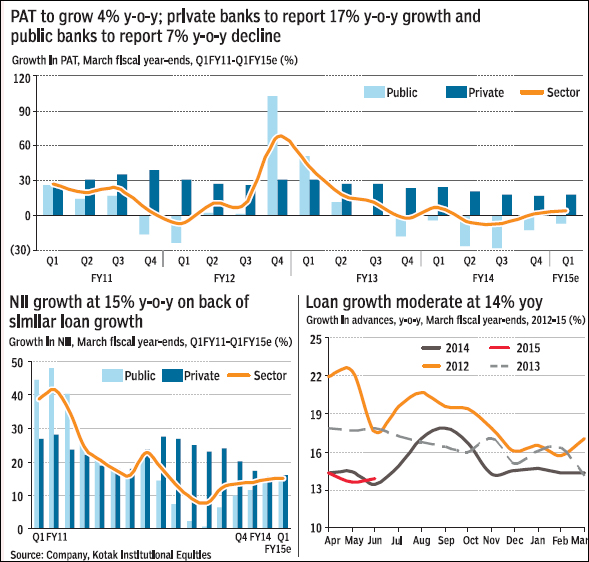 Regional banks like Federal Bank and Karur Vysya Bank are likely to report strong earnings growth (low base) while HDFC Bank will continue to deliver better earnings trend compared to ICICI Bank and Axis Bank.
Lack of hedging: The impact of unhedged exposure of borrowers is likely to impact earnings in the current quarter. While RBI has given a dispensation to ammortise the losses across four quarters, the quantum remains very uncertain both on provisions and its impact on capital adequacy ratios. The compliance requirement that is acceptable by the auditors and regulators is still uncertain. The impact could vary across banks given their exposure to customers with foreign currency and the customers hedging policies compared to the size and profitability of each bank.
Impairment ratios likely to be stable q-o-q: We dont see any major change to the impairment ratios in the current quarter. Slippages and fresh restructuring could decline q-o-q but
there is a bit of seasonality to these issues.
With the formation of JLF (Joint Lending Forum), we understand that fresh restructuring has dropped sharply, especially through CDR (corporate debt restructuring) , but this is not a trend that can be extrapolated. We would be a lot more focused on slippages from the restructured loans as this has been showing a steady increase.
NBFCs: a weak quarter on all counts: Our discussions with industry sources indicate the operating environment remains challenging for most segments in which NBFCs (non-bank financial companies) operate.
Seasonally sluggish demand, rise in NPLs (non-performing loans) and lower NIM due to interest reversals will likely affect Q1FY15 performance. Higher marginal borrowing cost due to increase in bank funding over the past few months will also put pressure on NIM.
Equity market-linked income (broking, investment banking, equity trading, etc.) will be buoyant. Equity market volumes in the cash segment increased 80% y-o-y and 60% y-o-y in Q1FY15; IIFL Holdings will be a key beneficiary. Our preferred picks: LIC Housing Finance in housing finance, Cholamandalam and Magma Fincorp in auto finance, Muthoot Finance in gold loans and PFC in power/infra finance. Post the recent rally, we downgrade Bajaj Finserv to Reduce from Buy.
Revisions in target prices and ratings
n Bajaj Finserv. We are revising our rating for Bajaj Finserv to Reduce. The stock has appreciated by 22% in the past three months and outperforms the index by 7%. We retain our SOTP(sum-of-the-parts)-based target price of R970.
n Cholamandalam. We are raising our target price for Cholamandalam to R400 from R345. Retain Add rating. At our revised target price, Cholamandalam will trade at 2x adjusted book FY2016e. We expect the company to deliver 19% RoE (return on equity) over the medium term.
Kotak Institutional Equities