Essar Energy Ltd, a unit of the Essar Group, is seeking to raise as much as $2.5 billion in Londons biggest initial public offering since 2007. The shares are on sale to investors for 450-550 pence each, according to agency reports. The initial public offering may value Essar Energy at as much as $11 billion, which would place it among the 50 biggest companies in the UKs benchmark FTSE 100 Index.
London is luring overseas companies to as the FTSE 100 Index trades close to a 21-month high. Essar Energys offering will be the citys largest since Edinburgh-based Standard Life Plcs 2.4 billion-pound ($3.7 billion) sale in July 2006. Russian fertilizer producer UralChem Holding Plc is also seeking to raise up to $642 million in a London IPO.
About 20-25% of Essar Energy will be publicly traded following the IPO, according to the term sheet. The shares are on sale until April 29, the terms show. JPMorgan Cazenove and Deutsche Bank are managing the offering.
The IPO will help Essar Group, founded by billionaires Shashi and Ravi Ruia, to expand power generation, oil refining and energy exploration to meet demand in the worlds second- fastest growing major economy. Essar is also seeking assets overseas, joining larger rival Reliance Industries to take advantage of cheaper valuations after the worst global financial crisis since World War II.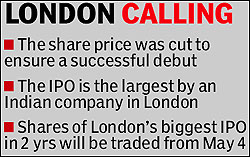 Essar Energy has plans to increase its power generation capacity from 1220 MW to 11470 MW, increase the Nelson Complexity of its oil refinery from 6.1 to 11.8 and has interests around the world in 14 prospective oil, gas and coal seam gas exploration blocks. The Group has plans to raise its refining capacity at the Gujarat-based Vadinar refinery to 375,000 bpd by 2011 from a current capacity of 300,000 bpd. The complexity will be increased from 6.1 on the Nelson Complexity Index to 11.8, which will help the refinery process complex crudes. If market conditions permit, the refinery capacity will be increased to 750,000 bpd by 2013, making it Indias largest single location refinery.