Equity new fund offers (NFOs) almost ground to a halt in CY12 as fund houses avoided launching NFOs in anticipation of new regulatory guidelines and investor apathy towards new schemes.
The year 2012 saw the launch of seven new equity funds that mobilised R477 crore, data from Morningstar India show. The fund launches declined despite gains of more than 26% in the benchmark indices last year, which also saw outflows of R14,148 crore in equity schemes.
The overall NFO count (excluding FMPs) has dipped to 90 in 2012 from 121 a year earlier and 170 in 2008.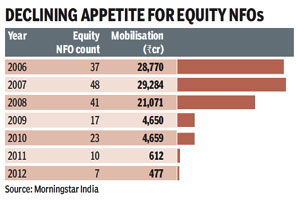 Investors have become wary of investing in new schemes that dont have a track record because of the market volatility. On the other hand, fund houses, which have been facing cost constraints for some time now, have become reluctant to launch new schemes as they may not be able to provide the kind of marketing support required to support new fund offers, said Jimmy Patel, CEO, Quantum MF.
Equity NFOs launched in 2012 were largely from smaller fund houses, said industry observers.
This is because the bigger AMCs already own a sizeable number of equity schemes in their portfolio, they said. Among the seven equity funds launched in 2012, Axis Focused 25 Fund and ICICI Prudential US Bluechip Equity Fund together managed to mobilise R306 crore, or about 64% of the total AUM mobilised by equity NFOs in 2012.
The number of new equity fund launches and the amount mobilised by them have been on a decline since 2009. In 2011, only 10 new equity funds were launched that managed to mop up about R612 crore. In both 2009 and 2010, equity NFOs had mobilised over R4,500 crore, while in 2006, 2007 and 2008, the mobilisation amount stood at more than R20,000 crore in each of the three years.
According to Dhruva Chatterji, senior research analyst, Morningstar India, stringent guidelines and a wait-and-watch approach adopted by asset management companies towards launching new equity funds, in the light of an uncertain market environment, has resulted in the launch of fewer equity NFOs over the last few years.
Sebi's ban on entry load in August 2009 had significantly impacted the number of new fund launches on the equity side. Subsequently, Sebi had urged fund houses to merge schemes and also clamped down on new fund offers launched without proper differentiation.