Foreign investors would soon be able to invest in local equity fund schemes, giving succor to equity mutual funds, whose assets have been dwindling since the entry load was banned in August 2009. This is a positive move for the industry. This could prove favourable for local equities as well as MFs in broad-basing the pool of funds. It could also be beneficial to a set of retail investors.
Finance minister Pranab Mukherjee, in his Budget speech on Monday, said mutual funds can accept subscriptions from foreign investors who meet the know your customer (KYC) requirements for equity schemes. Currently, only FIIs and sub-accounts registered with the Securities and Exchange Board of India (Sebi) and NRIs are allowed to invest in mutual fund schemes.
Madhusudan Kela, chief investment strategist at Reliance Capital, says, This is a very positive move, which is expected to bring in more foreign money into India. He however said that the money will not come immediately and mutual fund houses would have to wait awhile.
According to some market participants, this move could affect the inflows into existing offshore equity funds, as from now on foreign investors could invest directly in domestic equity schemes. Reliance, Birla Sunlife and SBI Mutual Fund are among the MF players that have offshore equity funds.
But, the distribution of local equity funds abroad could pose a challenge. In the US, for instance, the distributors have to be registered and must comply with local regulatory norms.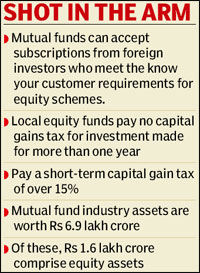 Mutual fund players, however, are unclear on the taxation front. Currently, local equity funds pay no capital gains tax for investment made for more than one year or pay a short-term capital gain tax of over 15% if redeemed within one year of investing.
Additionally, the entry of foreign investors is also expected to bring in some volatility. Deepak Chatterjee, MD of SBI MF, says, While allowing foreign investors to invest in mutual funds is a positive development, it could also be subject to volatility, as these investors can redeem any time, whenever their targets (of returns) are achieved. He said it would be difficult to quantify the extent of inflows to be expected from FIIs.
However, some market participants feel this move would broad base the set of investors and bring in more stability. Sandesh Kirkire, CEO of Kotak Mahindra Mutual Fund, says, I don't think it will have any negative impact as these are foreign investors and not foreign institutional investors. This is a progressive step in bringing foreign money into the mutual fund industry.
As per latest AMFI data, mutual fund industry assets are worth Rs 6.9 lakh crore, out of which Rs 1.6 lakh crore comprise equity assets.