ONGC says ?significant? quantum of investments deferred
Deferring a decision on hiking gas prices could cost the country dearly in terms of a higher foreign exchange outgo given the plans of exploration companies like ONGC and Reliance Industries will be delayed by close to a year. India imports around 30% of its natural gas needs and this is expected to grow to 42% by FY17 on a business-as-usual basis.
While the Reliance consortium had planned to invest $4 billion this year in the R-series fields, the three-month delay will mean no orders will be placed immediately. Since the original pricing decision should have been taken six months ago, the new delay means almost a full years loss of production. While implementing the Rangarajan formula would have raised prices to $8-9 per mmBtu, prices of imports range from $12-16 per mmBtu.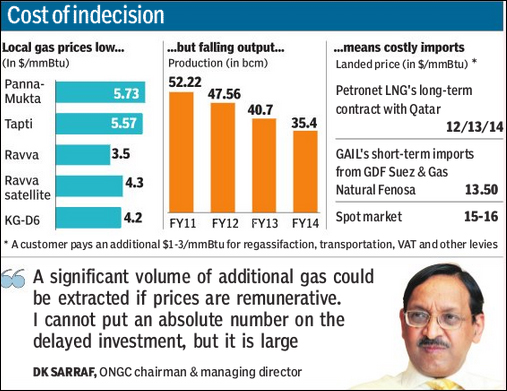 ONGC CMD DK Sarraf said that a significant volume of additional gas could be extracted if prices are remunerative. I cannot put an absolute number (on the quantum of investment delayed) but it is significant, he said, although he added that given the complex nature of the issue, the government might have needed more time to take a call.
According to the PSU, the country's largest explorer, even a higher gas price of about $8 per million British thermal units (as against $4.2 now) is not enough to monetise more than a dozen hydrocarbon finds across its fields. For example, ONGC found two gas discoveries in the Mahanadi Basin but can take out gas from the area only when the price is at least $11-13/mmBtu, allowing 10% return on equity.
ONGC, which is preparing a field development plan (FDP) for its 9,800-sq km block KG-DWN-98/2 in the Krishna-Godavari Basin, would require not less than $8/mmBtu for it to be economically viable. The latest estimate shows that development of the first to be taken up northern segment of this KG Basin block would itself cost $5 billion and that of the full block almost double that amount.
The RIL-BP combine, sources said, would be unable to evaluate future projects given the uncertainty over gas price revision and, as a result, might refrain from sanctioning planned investments of close to $4 billion this year for the R Series development to bring to production nearly 1.4 trillion cubic feet of discovered resources. Overall, the partners' plan was to invest $8-10 billion in the next few years to significantly increase production from the KG-D6 block.
Wednesday's Cabinet decision means production from the R Series project is delayed by a whole year. Theoretically, this would mean 15 million standard cubic metres per day lower domestic production for the year. This represents $2 billion of LNG imports (Rs 12,000 crores) in the year that could have been avoided if the price hike was implemented three quarters earlier. For climatic reasons, drilling is normally done between October and February.
Moody's Investors Services said the government's decision to defer gas price revision to September-end 2014 is credit negative for the country's upstream gas producers.
If prices had risen from 1 April 2014, (ONGC's) revenues for the fiscal year ending 31 March 2015 would have increased by about $3.3-$3.7 billion. Similarly, (RIL's) revenues would have grown $400-$450 million over the same period, and Oil India's by $280-$310 million... We expect that every billion cubic metres of gas produced will result in incremental revenue of $135-$150 million, wrote Vikas Halan, Moody's vice-president and senior credit officer.
India has to compete with other jurisdictions like East Africa, West Africa, Mexico, etc, to attract foreign explorers into the E&P (exploration and production) and sector. The plan of the new government needs to be put into place and communicated effectively to the international oil companies, said Dilip Khanna, partner, oil & gas practice, EY.
Khanna added, Fiscal regimes vary across the world, and attractiveness is also influenced greatly by geological risk. The administration of the regime in a fair, transparent and constructive manner is key to attract global investment interest.
When it comes to investment, there is also the question of unconventional hydrocarbons like shale gas.
The government has not given any different policy regime for unconventional oil and gas. The long-term life cycle of a conventional well to that of a unconventional well is in the 1:3 ratio. For shale oil or gas, hundreds of wells need to be drilled at a faster rate, said Narendra Kumar Verma, director (exploration), ONGC.