17% of the projects go so bad that they threaten the existence of company.
50% of big IT implementations (value greater than $ 15 million) have budget overruns by 45% and time overruns by 7% while delivering 56% less than projected return - a recent survey by McKinsey and BT Center for major program management at the University of Oxford. The survey conducted on 5400 projects revealed a total budget overrun of $66 billion a big gaping hole the size of a small nations GDP. 17% of the projects go so bad that they threaten the existence of company.
The McKinsey - Oxford collaboration can have a sobering effect on future capacity expansions. It is a catch 22 situation: On one hand we have the markets stirring back to life forcing capacity expansions and on the other hand the McKinsey - Oxford collaboration painting a doomsday scenario of businesses going under due to massive IT budget and time over runs.
Ever since the recession reared its ugly head in 2009 businesses have been conservative in their CAPEX spending preferring to hoard cash rather than spend on IT and systems. Since it was a recessionary phase with systems running at under capacity it did not pose much of a problem but with the economy showing signs of picking up businesses need to rethink their strategy, now. The diagram below shows how CAPEX spending has increased in 2014 hinting at economic revival.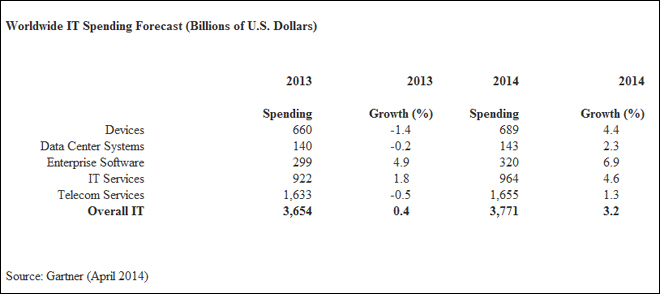 The own vs. rent is an integral part of this conversation. With so many options opening up in the enterprise segment - hosted servers, hosted PBX, hosted graphics capability - big onsite IT implementations may soon become a thing of the past with enterprises going for cloud solutions.
Cloud is the virtualization of the harder components of an IT system - server, cooling racks, routers - into a software interface. In business jargon, it is a move from CAPEX to OPEX, from premise based systems to business anytime and anywhere systems. Various enterprise cost savings are as follows -
Capital Cost Savings: No upfront CAPEX investment needed for setting up operations. Cloud telephony is a subscription based, pay as you go model where you pay for services used and not for any built up capacity that may or may not justify capacity expansion in the future.
Operational Cost Savings: No service costs, no costly updates. Updates are made automatically and the user has access to the latest version of the system running in a cloud environment. Businesses are consumers of IT resources rather its user.
Savings on new branch operations: In a conventional telephony system opening new branch communications is a very costly proposition for most businesses. PBX, Servers, cooling racks, TDM lines are requisitioned, premise leased for running operations, several dry runs to test new systems - all this takes time and money and businesses have none to spare. On the other end of the scale are loud telephony systems where extensions can be provisioned quickly for new branch operations. There is no CAPEX cost (Except for telephone handsets) and business lag time is a few hours at the most.
With cloud powering communications enterprises are freed from the day to day management of IT infrastructure allowing them to focus on changing outcomes. With the problem of deployment out of its way IT can focus on how to leverage cloud telephony to increase productivity.
Visibility of KPIs and access to critical transactions on smart-phones yields an immediate advantage in terms of productivity and better decision making. IT can leverage mobile phone technology to improve decision making in the field by providing access to critical information to field sales agent.
It is easy to see why mobile is so important because of the following reasons -
85% of us employers allow BYOD (FierceMobile IT 2013)
78% of all handsets will be smart-phones (Gartner)
150 number of times workers reach for the smart phones (Mary Meeker Internet Trends)
4:1 mobile app: desktop app development
80% of business will support tablets (Gartner 2013)
Due to forces of globalization and hyper competitiveness in the markets businesses have to be more proactive towards market trends and customer needs. BY bringing cloud and mobile technologies on a single platform employees can identify and resolve customer issues from any location and predict demand by studying market trends gleaned through call recordings.
Whereas, earlier, employees were using business resources for personal reasons now they are using personal device for business reasons because desktop technology has failed to keep pace with smart-phone technology. According to research conducted by Blackberry mobile usage improved employee productivity by one hour, workflow efficiency by 38% besides improving tracking sensitive mails. The total value of the benefits came to $50,000.
Cloud telephony mobile apps can provide the power of a mini call center in every smart-phone. Super Receptionist, Knowlarity's cloud telephony app, for android 4.0 and above, can play back recordings of customer calls besides providing the facility to enter notes with every call. The company plans to integrate click to call and customer information pop up feature in the future to make it more powerful.
By Ambarish Gupta, CEO Knowlarity