Indian mutual fund industry continued to witness erosion in its assets following sustained redemption in the debt as well as equity schemes. The December 2010 quarter average asset figures released by Association of Mutual Funds in India stood at Rs 6.75 lakh crore, which is 5.31% lower against Rs 7.13 lakh crore at the end of September.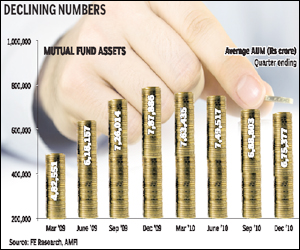 Barring DSP BlackRock MF, all other fund houses in the top ten saw a dip in assets during the quarter. While for Reliance MF the asset fall was to the tune of 5.27% to Rs 1.02 lakh crore against Rs 1.07 lakh crore in September, 2010, for Birla Sun Life AMC it was the highest among top ten fund houses with its asset shrinking by 14.4% to Rs 57,700 crore for December 2010 quarter.
Market participants say debt funds witnessed huge redemption in December with corporates needing it to meet their advance tax payments while banks redeemed units to meet its capital adequacy requirements. A Balasubramanian, CEO of Birla Sun Life MF says, The fall in the AAUM for us is in line with the industry and we saw huge outflows on the debt side. In the last quarter, liquidity condition in the money market was tight which led to overall withdrawal from the liquid schemes, he added. According to Balasubramanian, equity funds had seen outflows in October and November while December saw some smart flows.
AAUM of several small fund houses such as Sahara MF and Shinsei MF saw their assets go down by over 50% in October-December quarter. In contrast, fund houses like Fidelity and DSP BlackRock saw their assets grow in the last quarter. Sources say a rise in assets for some of the fund houses was seen largely due to the fresh inflows in equity schemes through systematic investment plan (SIP).
Fidelity MFs assets for the quarter stood at over Rs 8,900 crore gaining by 5%, while AAUM of Benchmark MF was Rs 2,900 crore up by 17%. Dhirendra Kumar, CEO of Value research online, says, The trend of equity schemes witnessing continuous redemptions with rally in markets is quite worrisome. Besides, distributors are not sufficiently incentivsed to sell MF products resulting in investors not buying into these funds.
While HDFC MFs AAUM stood at over Rs 87,890 crore, down by 5.61%; for SBI MF, AAUM was at over Rs 41,400 crore, down by 1.43%. The biggest jump in assets was that of Pramerica MF, whose assets surged 76% to Rs 1,100 crore., largely due to collections made from its new equity fund offer.