Diversification into non-core businesses has helped domestic broking firms report improved profit margins in the quarter ended June 30, 2012, over the same period in the previous year despite the lacklustre performance of their broking segments, which continued to face headwinds owing to volatile equities and lacklustre retail participation.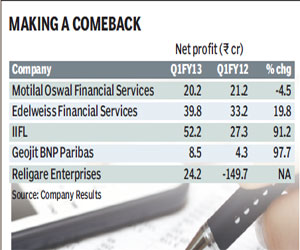 For the three months to June, Edelweiss, IIFL and Geojit BNP Paribas saw a net profit growth of 20%, 91% and 97%, respectively, over the year-ago period. Motilal Oswals net profit declined 4.5% to R20.23 crore from R21.19 crore a year ago. Religare Enterprises swung from a loss of R149 crore to a profit of R24 crore in the same period.
Despite challenging conditions, we achieved growth in topline as well as bottomline year on year. This is a result of significant diversification that we have achieved in our businesses and revenue streams, said Rashesh Shah, chairman and CEO, Edelweiss Financial Services. Edelweiss total credit book stood at R4,336 crore at the end of the first quarter compared with R2,611 crore in the same period last year, a growth of 66%. Shah added that the firm planned to scale up its retail finance and life insurance businesses.
It was a similar story for IIFL. Our core businesses of equities and financial products distribution continue to face headwinds. But the overall performance has shown satisfactory growth, helped by steady growth in consumer finance business and tight cost controls," said Nirmal Jain, chairman, IIFL.
According to estimates by rating agency Crisil, segments, such as retail lending, wealth advisory and asset management, could contribute 50% of the broking houses profits in 2012-13 compared with 25% in 2010-11.
Broking-related segments, however, continued to face headwinds. For instance, Motilal Oswals broking related revenues declined 10% y-o-y in the three months to June 2012 to R69.3 crore, while IIFLs equities, broking and related revenue slid 7% y-o-y to R125 crore.
Among other things, the growing action in low-yield options segment contributed to the dismal performance. The segment share has grown to 75% of market volumes in the first quarter of FY13, up from 67% in the previous quarter.
Cash delivery and intra-day volumes, on the other hand, declined about 25% each on a q-o-q basis. As a result, the proportion of cash-to-market volumes declined from 11% to 7% in the same period.
Although the first quarter of the calender year witnessed significant foreign inflows and good activity in the secondary market, the April-to-June period witnessed subdued markets, resulting in a marginal decline in topline, said CJ George, managing director, Geojit BNP Paribas. The BSE Sensex remained flat, gaining just 0.14% in the April-June quarter.