Experts say investor confidence started to improve after opinion polls predicted a comfortable win for the NDA.
Even as stock markets expect Narendra Modi-led BJP alliance's thumping win in Lok Sabha elections to be a trigger for a multi-year bull run, the results have sparked hopes of a revival in the domestic brokerage business.
Experts say investor confidence started to improve after opinion polls predicted a comfortable win for the NDA. Retail investors cash market turnover in Q4FY14 surged to its highest level in five quarters. Now, they say, the decisive electoral mandate and signs of an economic recovery will only lead to further improvement in sentiment.
In addition to volumes, the rise in equity markets and a revival in primary equity markets linked to the overall macro-economic situation will lead re-rating of shares of brokerages and financial services firms, they say.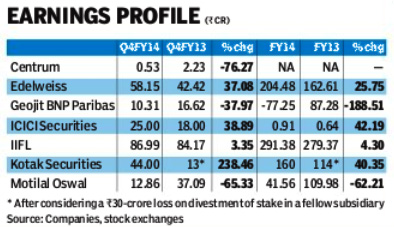 The Sensex gained more than 12% since February when opinion polls began predicting a majority for the NDA. Fifteen out of 18 opinion polls since April 2013 as well as exit polls predicted that the NDA will post a win.
Indian markets have been lacklustre for the past few years. However, the general expectation is that we have seen the bottom of the growth cycle. We have also seen an increase in volumes with liquidity, which is evident from the rise in cash volumes in Q4FY14, said Espirito Santo analysts Santosh Singh and Nidhesh Jain. As volumes increase on hopes of a strong and decisive government and signs of an economic recovery, broking stocks could get a new lease of life, they said.
The domestic brokerage industry experienced tough times after the collapse of American investment banking firm Lehman Brothers in 2008, which signalled a deep and enduring financial crisis globally. Together with that, a domestic policy paralysis and weak macro-economic fundamentals forced retail investors to stay away.
Singh and Jain further explain that primary market issuances are a dominant way of attracting retail investors. Historically, we have seen a positive correlation between IPOs and cash volumes. If the current BSE-200 rally continues, the equity markets may re-open for primary funding, but this window is likely to be short lived than in the past, given the ongoing macro challenges and likely bouts of volatility, they added.
Five out of seven brokerage firms listed on the stock exchanges reported flat-to-negative earnings growth in Q4FY14, with brokerage divisions seeing a decline in growth, data from stock exchanges and brokerages showed. Valuations of Indian brokers are at all-time low. Bloomberg data show. Stock price of brokerage firms are down 40-80% from their respective life-time highs.
It is a multi-year bull run. One should invest in equities and stay on quality stocks for a much longer period than ever before, said Raamdeo Agrawal, Raamdeo Agrawal, joint managing director and co-founder, Motilal Oswal Financial Services.
Agrawal said while the government is expected to do a good job, there will be difficulties in the first year or two.
Once the government clears the difficulties, the pace of (economic) growth and of benefits to the nation will
start accruing after a year or two. The third and the fifth years will be even better, Agrawal said.