The negative returns given by the benchmark indices over the last five years has weakened the case for long-term investing in equities. The benchmark
BSE Sensex
has shed more than 11% since January 2008, the month it touched its all-time intra-day high -
NSE Nifty
has followed.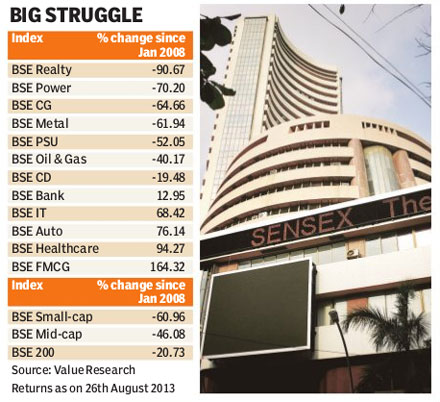 Nearly half of the blue chips listed on the 30-share index are currently trading even below its early 2008 levels. These include BHEL (-78.32%), Tata Steel (-70.83%), Jindal Steel (-54.78%), Tata Power Company/b> (-51.88%), NTPC (-51.52%), Hindalco Industries (-49.19%), Larsen & Toubro (-48.97%), Reliance Industries (-43.54%), Bharti Airtel (-39.18%), ICICI Bank (-34.74%), * State Bank of India (-32.46%), GAIL (-18.99%), Oil & Natural Gas Corpn (-17.01%) and Sesa Goa (-13.46%).
Except for FMCG, auto, IT and pharma, all sectoral indices have declined in the last five years. The realty index (-90%), power (-70.20%), capital goods (-64.66%), metal index (-61.94%), PSU (-52.05%), Oil & Gas (-40.17%) and consumer durables (-19.48%) have taken a beating.
During this period, the total market value of all the actively traded stocks put together has declined by 23%. Long-term investing has become challenging as the last five-year period, perhaps for the first time in history, has seen two global meltdowns. The period has also seen close to a 50% crash in the rupee exchange rate and global crude oil prices holding up despite the global slowdown, said G Chokkalingam, managing director and chief investment officer, Centrum Wealth Management. The country also made a few major errors like losing over $110 billion in gold imports over the last 30-months and not reversing the interest rate cycle substantially on time.
Experts said that while most broad-based indices have seen a downward trend, individual stocks have seen an even a bigger fall. They reckon Indias growth story has failed to meet the expectations of the investor community after delivering a high rate of GDP growth in some quarters. Indias GDP growth rate has seen a significant slowdown. Investment has been challenging as equity markets net-net have not given any returns. At the same time, this difficult period has been a learning experience for us, said Dr Nirakar Pradhan, chief investment officer, Future Generali India Life Insurance.
Markets have seen a highly volatile trajectory over the last five years. In 2008, Sensex dived from 20,286 to the years low of 8,451 within 11 months in the aftermath of the global financial crisis. Since touching this low, the BSE barometer has managed to gain about 112%.