Banking on the phased deregulation of diesel pricing, the government proposes to cap subsidy on this fuel at R6 per litre in 2013-14 to insulate itself from volatility in global crude oil prices which could potentially upset its fiscal math. The average under-recovery on diesel this fiscal is estimated to be R10/a litre and this is made good by subsidy, the burden of which is borne by the government and upstream oil companies in a 3:2 ratio.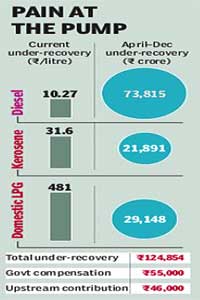 The move to cap diesel subsidy could help government to lower the overall subsidy burden on the fuel, including the share of upstream oil companies, by almost 40%, if crude prices and the rupee remain at current years levels. Supposing the subsidy sharing formula is not altered, this means the governments share of the subsidy (about R60,000 crore in 2012-13) will come down by around R24,000 crore.
The cap would force a revision of subsidy calculation by adopting the export-parity formula against the current trade-parity system, besides successful implementation of the plan started in January to hike diesel prices every month by 45-50 paise a litre.
If the plan materlialises, it would indeed be a spectacular feat for the policymakers given that diesel, the single biggest head on the governments subsidy spending, accounts for 65% of the current fiscals fuel subsidy bill of close to R1.55 lakh crore.
A Rs 6 per litre cap on diesel subsidy is considered prudent as it would help oil marketing companies revise the product price hike schedule in consonance with movement of international oil prices, said a government official privy to the development. Finance minister P Chidambaram may hint at the capping of subsidy while presenting the budget proposals for 2013-14.
Current global crude oil price is around $113 per barrel, while international petrol price (also known as MS price) is at $128/barrel. Government fears that further upward movement in oil prices during 2013-14 would extend the goalpost for diesel de-regulation, due to the increase in under-recoveries of oil marketing companies.
Capping subsidy would, therefore, come to the governments rescue as it would warrant steeper monthly hikes in diesel prices.
The finance ministry wants to keep its subsidy bill to less than 2% of GDP so that is able to check fiscal deficit that is expected to be around 5.3% this year and projected at 4.8% in 2013-14.
At current global oil prices, under recovery on diesel will become nil in the next 22 months. The under recovery on diesel at present is Rs 10.27/litre. Ever since the announcement of 45-50 paise increase in diesel price per litre every month on January 17, the product price has been adjusted twice.
Apart from volatility in global oil prices, next years general elections and elections in several states this year could also interrupt regular hikes in diesel prices. This has been understood well in government circles and therefore the move to cap subsidy, said an oil ministry official.
Of the 2012-13 fuel subsidy outlay of Rs 43,600 crore, Rs 38,500 crore was used for payment of 2011-12 dues and Rs 55,000 crore was subsequently sanctioned, which means a deferral of Rs 40,000 crore to 2013-14.
In its attempt to reduce oil subsidy, the Centre has already capped the sale of subsidised domestic cooking gas cylinders to households at nine per year. Petrol prices are already de-regulated and OMCs have the freedom to revise its prices according to global prices. Diesel and kerosene have so far not been touched but the government now wants to restrict its commitment only to kerosene. The Kelkar report on fiscal consolidation has advocated a phase-wise reduction of subsidy even for kerosene and transferring the benefit directly of beneficiary through cash payments.
Analysts said the liquidity position of OMCs is expected to improve over the medium term, resulting in reduced under-recoveries and lower debt levels. They reckon that the proposed gradual increases in diesel prices would help correct the disparity between prices of diesel and alternative fuels like CNG and PNG, benefiting city gas distribution players.
It is likely that the government would let upstream oil companies ONGC, Oil India and GAIL cut their share of the subsidy burden corresponding to, if not more than, the overall decrease in the oil subsidy burden. The hike in the number of subsidised LPG cylinders from six to nine per household per year would, however, increase the under-recoveries by Rs 9,300 crore annually.
The under-recovery on diesel is estimated at Rs1 lakh crore by the end of this fiscal. The under-recovery on diesel for the period April-December is Rs73,185 crore, for kerosene Rs 21,891 crore and Rs 29,148 crore on domestic cooking gas.