The divergent set of reporting numbers and varied commentary by industry players has only puzzled many on the current status of the Indian IT sector, with some outperforming the market, while others not meeting the expectations. At the end of the July-September quarter results for FY13, TCS and HCL Technologies continued with their strong performance registered during the first quarter, while Infosys remained cautious as before, dampening the sentiment of the market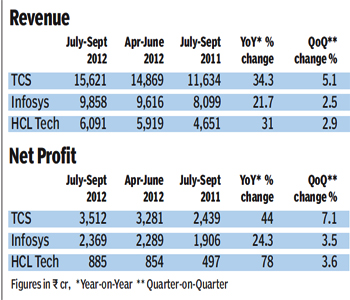 Though it is still early to say whether the second quarter numbers offer a glimpse into things to come in terms of separation among the top four Indian companies but some signs are very visible. TCS, Indias largest IT service exporter is certainly racing away from the pack with its revenues more than $3 billion from its nearest competitor Infosys.
After the quarterly results of Infosys, Partha Iyengar, head of researchGartner, India said, Infosys continues its relatively weak and underperforming trend and year-end outlook, with the view that the market continues to be weak. It will be interesting to see what the other providers results are in the coming few days, but it is likely that the trend of performance gaps widening between various Indian service providers will continue this quarter as well and could be a trend for quite a few quarters to come.
In an economic environment, which is not upbeat and signs of recovery still being very weak, the response of the large Indian IT companies has been very divergent. Added to this the three-month period from June to September is traditionally understood as a strong quarter and hopes were raised of a better performance from the top tier Indian companies.
TCS has always maintained the stance that the overall outsourcing and offshoring environment has remained stable with no cause to panic. But on the other end, Infosys has consistently maintained the stand that the global economic environment still remains volatile with full recovery nowhere in sight. HCL Technologies in its commentary is finding opportunities in the unstable economic environment with the ability to poach on the many IT deals which are coming up for renewal.
The performance and responses of these Indian IT companies has partly to do with the internal structure of these organisations. TCS has represented a very stable management with the ability to proactively respond to the current economic situation and the confidence level has kept growing.
Infosys still seems to be grappling with certain internal issues and is yet to very impact communication of its strategy of 3.0. Shibulal said that they are seeing early signs of success from the new strategy and this will be the bedrock for time to come. However, there seems to be a general level of impatience by the market as the companys performance has been quite tepid for a couple of quarters now.
HCL Technologies, which was always a poor cousin in the multi-billion dollar league, is slowing inching into that category with aggressive deal making and a more upbeat stance on the overall economy. It remains to see whether the second quarter results of FY13 fiscal is a trend setter in terms of creating a separation among the pack of top tier Indian IT companies. Hitherto, all of them moved in tandem with small differences but now the gap seems to be widening bringing good fortunes for some while other having to do a lot of catch up.
Overall the quarter gone by has had no major surprises with TCS and HCL posting in good numbers while Infosys remaining still in the modest category.
TCS
Indias largest IT services exporter maintained its lead across all operational parameters when compared with its competitors and once again posted a very robust performance. For the three months period between July and September of the second quarter of FY13 fiscal, TCS reported a 44% year-on-year growth in net profit while sequentially it rose 7.1%. The net profit for the second quarter was R3,512.3 crore when compared to R3,280.6 crore reported in the sequential quarter ending June.
TCS registered a 34.3% year-on-year growth in revenue and sequentially it grew by 5.1%. For the second quarter, the revenues touched R15,620.8 crore as compared to R14,868.7 crore in the sequential quarter. Currently, TCS has an annual revenue rate in excess of $10 billion and the second quarter numbers reveal that it is able to post industry outperforming growth despite the size.
TCS CEO & MD N Chandrasekaran said, As the global operating environment continues to evolve, there is little doubt that technology is playing a pivotal role to shape the future of every industry than ever before. Our investments and capabilities make TCS extremely relevant to participate in imagining and co-creating this future with our customers. The company has also reiterated that it would surpass the growth estimates of Nasscom of 11-14% set for the industry.
TCS put in very strong performance across verticals and geographies for the second quarter. The North America market which accounted for 52.8% of its revenues reported a sequential growth of 3.6% with a yearly rise of 32.7%. Even the UK market which generates 17.1% of revenues recorded a sequential growth of 5.7% and an YoY rise of 47.4%. However, the highest growth numbers was reported by the India market where it recorded a sequential growth 11.7% while annual rise was 21.4%.
Among the industry verticals, TCS saw the highest growth coming in from the manufacturing segment recording a 9.5% sequential growth and a yearly rise of 42.5%. Even in the BFSI segment, which accounted for 42.8% of its revenue, the sequential growth was 4.7% with a yearly rise of 31.7%.
On the services line, infrastructure services segment for TCS recorded double digit growth touching 12.6% on a sequential basis while in y-o-y terms it was 58.8%. Its mainstay application, development and maintenance segment reported 4.4% growth sequential and a yearly growth of 29.5%.
Dipen Shah, head of PCG (private client group) Research, Kotak Securities on TCS results said, The management has remained optimistic on the macro front. It is seeing increased spends in discretionary services, which is in contrast to cautious comments by industry peers. This is likely a reflection of deeper client penetration, superior delivery along with a broad presence across services.
This performance was ably aided by a certain robustness on the human resources front. At the end of the second quarter, the employee headcount of TCS stood at 254,076 with a net addition of 10,531 in the three month period. It also managed to hold the attrition level at 10.2% level for the IT services segment while the overall number was 11.4%.
Infosys
For the second quarter stretching from July to September, Infosys reported a 24.3% y-o-y increase in consolidated net profit, while sequentially it was up 3.5%. The software services firm posted a profit of R2,369 crore compared with R2,289 crore in the previous quarter ending June. Revenue was up 2.5% at R9,858 crore against R9,616 crore during the June quarter. Year-on-year it was up 21.7%.
The IT major maintained its annual revenue outlook to 5%, whereas analysts were expecting about 150 basis points increase in the guidance following its recent acquisition of Swiss consulting firm Loadstone. For FY13, Infosys expects revenue to be at least $7.343 billion. Infosys, which reported just a 2.6% sequential rise in dollar revenues of $1,797 million in the September quarter, said that it will look into changing the annual dollar revenue guidance next quarter.
Infosys now needs to deliver a sequential revenue growth of 3.7% quarter-on-quarter for the remaining two quarters of the year to meet its full-year guidance. Given the last four quarters revenue growth of 3.4%, -1.9%, -1.1% and 2.6%, this does not seem to be an easy task, notes Barclays.
During the June quarter, the tech company forecast a meager 5% rise in dollar revenue for FY13 against an earlier projection of 8-10%. The Bangalore-headquartered IT firm has had a poor show in the last one year disappointing markets every time with its outlook.
However, the company pointed out that the recent Lodestone deal is not closed and it will be included in its guidance in the current quarter. The deal has no impact on our outlook right now. We will change our guidance next quarter, said SD Shibulal, CEO and managing director, Infosys. The IT firm revised downwards its earnings per share for FY13 to $2.97 from $3.03 projected during the first-quarter ended June.
The company officials pointed out that sequentially operating margin during the quarter declined by 160 basis points to 26.3%, while volume grew 4.4% onsite, and 3.6% offshore sequentially. Overall volume during the quarter was up 3.8%. However, pricing on blended basis, was marginally down by 0.2%.
We have increased employee wages, used some of our cash in a transformational acquisition of a consulting business and enhanced our investment in R&D and solutions. These initiatives will position us well in the industry and provide a strong platform for future growth, said Shibulal.
Infosys added 39 new clients during the quarter, including 14 clients in the financial services space. The company pointed out that growth in Q2 has been widespread led by larger clients. Finacle added six clients during the quarter, of which four were from Europe, Middle East and Africa and two were from the Asia pacific region. In the products and platforms space, Infosys added 15 clients across industries and geographies during the July-September period.
The company noted that it is seeing good momentum in the market for cloud business and have executed more than 170 engagements. During the July-September period it won 20 engagements across cloud services, big data and security. The BFSI vertical grew 0.6% sequentially, while manufacturing was up 2.8% quarter-on-quarter basis. Geographic wise North America grew 2.2% sequentially, Europe grew 4.7%, while India declined by 15.4%.
HCL Technologies
HCL Technologies posted a 3.6% sequential rise in net profit at R885 crore during the July-September period. Year-on-year, profit jumped 78.1% compared with R497 crore in the corresponding period last year. Revenue was up 2.9% sequentially to R6,091 crore, while year-on-year it rose by 31% from R4,651 crore, a year ago.
A 31% year-on-year growth in revenues and a 78% growth in net income this quarter reiterate the fact that robust revenue growth can be achieved profitably. Increased wins in Fortune 500 accounts have resulted in Americas and Europe geographies growing at 34% and 37% year-on-year respectively, said Vineet Nayar, vice chairman and CEO, HCL Technologies.
Overall, the volume growth of the company was healthy at 4.5% sequentially. Cross-currency movement aided the companys dollar revenue by 0.3% quarter-on-quarter, noted Angel Broking. In constant currency terms, the revenue grew by 2.9% quarter-on-quarter to $1,111 million.
Higher operating profits coupled with the efficient management of working capital, has enabled us to report 27% return on equity on LTM basis which is in the upper quartile of our industry. We continue to convert more than 100% of the net income to operating cash flow on LTM basis said Anil Chanana, chief financial officer, HCL Technologies.
The software services firm won 12 multi-year deals during the quarter across verticals including manufacturing, financial and consumer services. During the quarter, the IT firm reported growth in matured markets with revenue from the US and Europe growing by 4% and 2.7% respectively. The revenue from rest of the world declined by 0.8% q-o-q. The management indicated that since the past 5-6 quarters, the sales force of the company has increasingly been focused towards the US and Europe geographies.
HCL Tech added 32 new client during the quarter. Active client count at the end of the quarter stood at 536, same as last quarter. Among verticals, healthcare led the growth with 14.6% sequentially, followed by retail and CPG (10.2%), media publishing and entertainment (7.3%) and BFSI (3.6%). Telecom remained sluggish, declining 3.2% quarter-on-quarter.
Geography wise, Americas share stood at 57% in the total revenue followed by Europes 27.9%. Among service offerings, the share of custom application services was the highest at 31% followed by infrastructure services at 26.6%. Sales from manufacturing, telecom and energy verticals dipped in the quarter and the firm added four $30 million clients.