Currently, Diageo through its wholly-owned subsidiary Relay BV, holds 28.78% in United Spirits.
London-based liquor giant Diageos open offer to acquire 3.7 crore shares or 26% stake in United Spirits began on Friday. For a consideration of Rs 11,448 crore, Diageos stake in United Spirits will rise to 54.78% assuming full acceptance. The offer is priced at Rs 3,030/share.
Currently, Diageo through its wholly-owned subsidiary Relay BV, holds 28.78% in United Spirits. United Breweries Holdings stake stands at 5.93%.
Analysts say that the offer is unlikely to see full acceptance. We do not expect a full acceptance for the offer and believe longer-term investors will wait for the premiumisation theme to play out in USL over the next 18-24 months, said IDFC Institutional Securities in a recent note.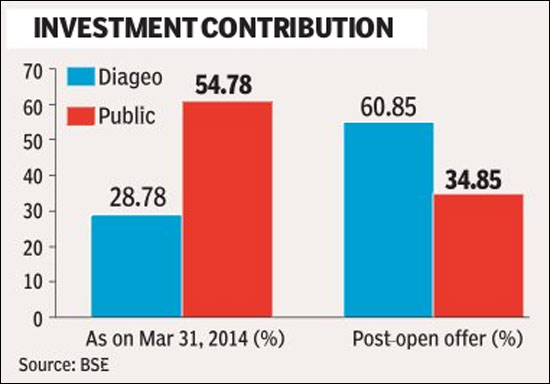 The market seems to be implying an acceptance ratio in excess of 70%, considering the current spread between the estimated fair price and the current market price, Kotak Institutional Equities added. Currently, the total public shareholding in United Spirits stands at 60% or 8.8 crore shares.
Experts believe this is a good opportunity for investors to exit the scrip as there are few short-term triggers. The upside remains limited in the stock. The company also remains highly leveraged, said Manish Poddar, consumer & retail analyst, Motilal Oswal Financial Services.
The United Spirits scrip has gained more than 11% since April 15 when Diageo announced the open offer. YTD, the scrip has gained 9.4%. However, experts feel the scrip is likely to see a correction post the open offer.
We expect the stock to trade on fundamentals, once the offer trigger is over and reset our post offer target price to R2,500, CLSA said in a note. Our post-open offer price stands at R2,300, Motilal Oswal Financial Services added.
An earlier open offer made by Diageo last year had failed. The open offer was priced at R1,440. Diageo was only able to pick up 0.04% through the offer. The higher open offer price of R3,030 indicates Diageo's confidence in the potential of the USL business as well as its commitment to India as a market, IDFC Institutional Equities added.