London-based liquor maker Diageo on Wednesday announced the successful completion of its R11,448-crore open offer for a 26% stake in United Spirits (USL). The acceptance ratio stood at 54.6%, as of the 6.91 crore shares tendered, 3.77 crore were accepted, a Diageo spokesperson told FE.
After the open offer, Diageos stake in USL has increased from 28.78% to 54.78%. The open offer was held from June 6-19 at a price of R3,030. On Wednesday, the scrip closed 2.9% higher at R2,486.55.
The United Spirits scrip has gained 9.7% between April 15 and June 18 (from announcement till the penultimate day of the offer). YTD, the scrip has shed 4.6%. Diageo's total cost of the USL acquisition, which started with signing a share-purchase agreement with Vijay Mallya in November 2012, now stands at R18,023 crore.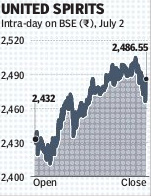 Mallya, however, continues to be USL chairman as part of the agreement. Over the past year, Diageo has revamped USLs board, appointed former Cadbury India head Anand Kripalu as chief executive officer and has focussed on compliance standards and training.
Experts say USL is likely to see a correction after the open offer. We expect the stock to trade on fundamentals, once the offer trigger is over and reset our post offer target price to R2,500, CLSA said in a note. Our post-open-offer price stands at R2,300, Motilal Oswal Financial Services added.
The company management believes USL will a be major contributor to Diageos growth. Our announcement today is significant for Diageo. India has now become one of Diageos largest markets and will be a major contributor to our growth ambitions. USL is the leading player in the attractive Indian spirits market with great brands, a unique route to consumer and talented people. We can now combine that strong platform with Diageos strengths to create a compelling future in India for Diageo, USL and the Indian spirits industry, Ivan Menezes, chief executive of Diageo, said.
An earlier open offer made by Diageo last year had failed. The open offer was priced at R1,440. Diageo was only able to pick up 0.04% through the offer. The higher open offer price of R3,030 indicates Diageo's confidence in the potential of the USL business as well as its commitment to India as a market, IDFC Institutional Equities added.