2014 is expected to start with a big bang as the biggest hit of the year, Aamir Khan-starrer Dhoom 3, continues with its gold rush at the box office.
For the Rs 12,000-crore Bollywood industry, 2014 is expected to start with a big bang as the biggest hit of the year, Aamir Khan's 'Dhoom 3', continues with its gold rush with its box office collections. After breaking many first week records, 'Dhoom 3' is set to challenge the four-year-old record held by the actors previous all-time blockbuster film 3 Idiots that grossed Rs 56 crore in its second week.
Over the few years, major hits like Salman Khan-starrer 'Dabangg 2', 'Ek Tha Tiger' and Shahrukh Khans recent release 'Chennai Express' have broken multiple box-office records, but the second week collection of '3 Idiots' remained untouched.
Analysts point out that the way 'Dhoom 3' has been trending over the weekdays suggests that the four-year-old record held by 3 Idiots is set to be surpassed. 'Chennai Express', the highest-ever domestic grosser at Rs 208 crore, collected around Rs 39 crore in its second week. The current rate of 'Dhoom 3' suggests the film will also become the highest ever grosser of all time domestically by surpassing records of Chennai Express and 3 Idiots (Rs 204 crore).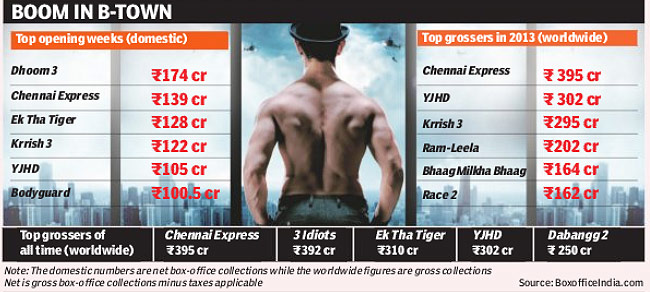 The film will definitely surpass those numbers. A film has to have good content to go beyond the opening weekend, where big stars might help to get the initial collections. The trending is also better than 3 Idiots, Komal Nahta, a box office trade analyst told FE.
Aamir Khan, who is often considered as a thinking actor, has been panned by some critics for a mindless sequel like 'Dhoom 3'. Film making is business. Critics always have a problem with commercial films, added Nahta.
The Yash Raj Films produced Dhoom 3 has collected Rs 200 crore worldwide in its first weekend, while 'Dabangg 2' released a year ago was the first film to hit Rs 100 crore mark in the first weekend, showing how fast the industry has been growing in less than a year.
No one could predict that this film would put numbers like this. The way this film has succeeded shows that sky is the limit. People are realising the business potential of Hindi films, provided we make a good film. The collections are only getting bigger every year, said Taran Adarsh, film critic and trade analyst. 'Dhoom 3' has managed to gross Rs 20 crore for more than three days during the weekdays on Monday, Tuesday and Wednesday.
Experts feel 'Dhoom 3' also become a saviour for the multiplexes after a lacklustre third quarter with many big films like 'Bullet Raja' and 'R... Rajkumar' under firing.
This has come as a new year gift for multiplexes and turned our fortunes around for the third quarter, which was not so good so far, said Pramod Arora, group president and CEO, PVR Cinemas, the largest multiplex chain in the country.
According to Arora, the release of the film was timed well in between holidays and weekends. The impact of carpet bombing in more than 3,700 screens and the higher ticket prices have ensured that most of the 3 Idiots records are not safe, he added. The business has been helped by digitisation with the films being shown in almost 4,000 screens at the same time. The 1,000 screen mark was first hit in 2006, which is a four fold increase over the last seven years.
The worldwide business of Hindi films has been phenomenal this year with 'Chennai Express' almost touching Rs 400 crore and Dharma Productions 'Yeh Jawaani Hai Deewani' hitting Rs 300 crore while 'Krrish 3' finished a few crore under the Rs 300-crore mark.
Previously only 3 Idiots and 'Ek Tha Tiger' had managed to join the Rs 300 crore club. Now, it is very likely that 'Dhoom 3' will cross the Rs 400-crore mark with its box office collections. The year 2013 will have less Rs 100 crore grossers at six while 2012 saw eight films crossing the Rs 100 crore figure. 'Chennai Express', 'Yeh Jawaani Hai Deewani', 'Bhaag Milkha Bhaag', 'Goliyon Ki Raasleela Ram-Leela', 'Krrish 3' and 'Dhoom 3' crossed the Rs 100-crore magical number.