Our twin concerns of weak subsidiary performance and cost overrun risk in the Middle East played out earlier than we expected and in a much bigger way. Adjusted for the Dhamra stake sale and exceptional income,
Larsen & Toubro (L&T)
reported a loss at the PBT level for the consolidated entity in Q1FY15. This was on account of massive cost overruns (R9 bn) in the hydrocarbons sub, while revenues and margins in most other segments were also weak. Development, shipbuilding and forging subs also disappointed. Order inflows, excluding services, grew only 3% y-o-y, while the standalone entitys orders appear to have fallen.
Capital employed for the standalone entity rose 20% y-o-y as the WC (working capital) cycle lengthened further. Frequent changes in the group structure and disclosure styles are making analysing financial statements increasingly difficult, while the managements guidance is also not very clear.
L&Ts performance in the Middle East does not give us comfort on its overseas expansion strategy and there is little visibility on its sub performance improving meaningfully in the near term. The companys average annual P/E has been higher only once in the last 10 years, despite its RoEs (return on equities) being higher, gearing lower, and orderflow/EPS CAGRs being better in the past. We cut our FY15-16e EPS by 5-6% (20% cut to FY15e EPS, excluding Dhamra and extra gains) and cut our 12-month forward FV (fair value) to R1,515 (from R1,635).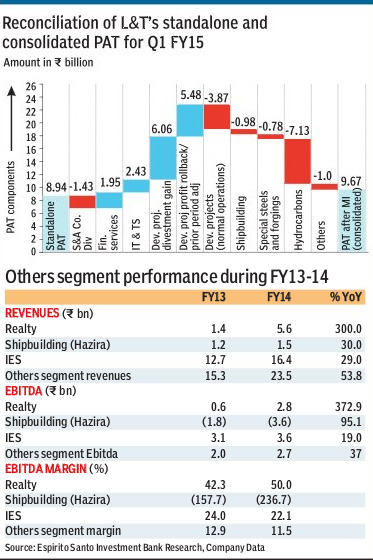 Standalone: Weak revenues partly offset by lower staff, overhead costs: L&Ts Q1FY15 standalone adjusted PAT rose 9% y-o-y, missing our estimate by 9%. Revenue growth was weak, with all segments but Infra posting declines. Gross margins fell 92 bps y-o-y, but Ebitda was + 34bps on lower staff and overhead costs. All segments but Others saw Ebit margin declines. Depreciation rose sharply (+40% y-o-y) due to a revision in the useful life of assets.
Consolidated: ME losses, weak subs: L&Ts reported consolidated PAT more than doubled y-o-y in Q1 FY15 as it booked gains on the Dhamra Port sale and loss reversals as operational revenues. Adjusted for the same, revenues grew only 2% y-o-y. Worse, in E&C (engineering & construction) division segments, revenue declined 9% y-o-y. Adj. Ebitda margins fell 4.4ppt to 6.4%, with all verticals other than the Infra seeing sharp margin erosion. The hydrocarbons segment posted an Ebitda loss of R9 bn (revenue: R15.5 bn), as it suffered cost overruns on Middle East projects won in 2010-12. Development subs adj. Ebitda margin collapsed, and forging remained weak.
Risk of valuation de-rating higher now: Given the (i) frequent changes in reporting styles/group structure; (ii) Middle East expansion risks becoming evident; (iii) little visibility on sub performance improving in the near term; (iv) managements guidance hard to decipher; and (v) valuation is at a premium to its historical average though operational metrics have deteriorated, we believe risks are more to the downside and could trigger a de-rating. We cut our FY15e-16e EPS by 5-6% (20% adjusted for Dhamra/exceptional gains) and revise our FV to R1,515 (from R1,635)
Espirito Santo Securities