The Supreme Court sets condition of depositing Rs 10,000 crore by Sahara Group for granting bail to Subrata Roy.
Supreme Court on Wednesday set condition of depositing Rs 10,000 crore for releasing Sahara group chief Subrata Roy on bail.
A bench of Justices K S Radhakrishnan and J S Khehar turned down Saharas plea to reduce the amount and asked the Sahara group to convey its reply till Thursday.
Adjourning the case till tomorrow, the apex court set Rs 5,000 crore in cash and Rs 5,000 crore of bank guarantee to be furnished as a pre-condition of bail to Subrata Roy and two other directors, who are in Delhis Tihar Jail since March 4.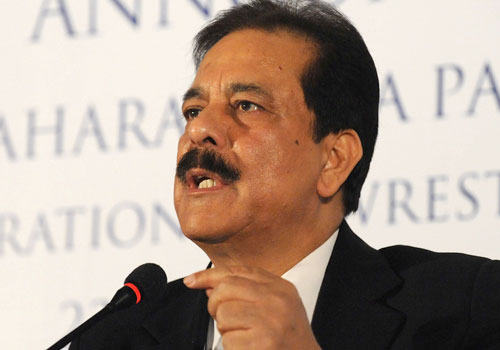 The beleaguered Sahara chief Subrata Roy had earlier challenged before the SC his detention order calling it 'illegal and unconstitutional'.
The Sahara group on Tuesday made a proposal before the Supreme Court for depositing Rs 20,000 crore investors money with SEBI to secure release of its chief Subrata Roy who has been behind the bars along with companys two directors since March 4 when they were sent to judicial custody.
On the issue of defreezing bank accounts to help Sahara raise the money, the top court asked Sahara to adduce a note on the specific accounts for withdrawal. It also asked Sebi to respond to Saharas latest proposal of paying Rs 20,000 crore by March next year.
Meanwhile, the Sebi told the court that its view was that the Saharas fresh proposal was unworkable.
Also check:
Quote: Sahara Housing Fina Corporation Ltd
Quote: Sahara One Media and Entertainment Ltd
Also read: Sunny Leone's 'Ragini MMS 2' must be banned, actress deported for 'assault on Hindu gods', says HJS