Dell Venue 8 PRO, which weighs 395 grams, is priced at Rs 26,499.
Although Apples iPad lineup is yet to be bested by the slew of tablets in the market, Dells Windows-powered Venue 8 Pro tries to appeal to those who need Microsoft software in a portable form factor. Windows 8 comes pre-installed in most new laptops, but the OS is still uncommon among tablets. Lets find out if it can compete with the iPad Mini and cheaper Android tablets.
Build & design
Dells tablet measures 8 inches diagonally and is easy to carry around. This tablet weighs 395 grams, which is heavier than the iPad Mini with Retina Display (331 g). The weight difference isnt much, and the Venue 8 Pro feels good to hold when you use it with both hands. Although you can hold it with one hand without straining your arm, you will not be able to use it with the same hand.
The tablet has a pattern at the back, which provides good grip. It has volume and lock buttons on one side and a Windows button at the top. The Windows button takes you back to the home screen if you have any app open. Its placement is extremely awkward. Android and iOS devices have a home button just below the screen, where it is easily accessible.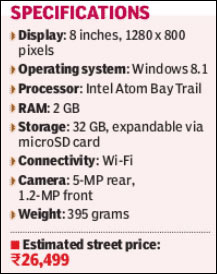 Most Windows tablets and Windows Phone devices have a similarly placed home button. Thats why Dells decision to put it on one of the edges is baffling. I found myself swiping from the right edge of the screen to access the virtual home button and I rarely used the physical home key. Barring that, Dell has done a good job with the tablets design. Its light, feels premium and well-built.
Display
The most-used component of all touchscreen devices is the display. When using a tablet, a high-resolution display is a must. Dell Venue 8 Pros 1280x800 pixel display may not be as good as the iPad Minis Retina Display, but thats not something you will notice unless you are switching from the Apple tablet. I found that the Venue 8 Pros screen is good for watching films because the viewing angles are great. You can watch from nearly 180 degrees on either side and still the video will not lose clarity. This is also very useful while gaming, especially because you might have to tilt the tablet when you are playing.
However, the downside is that the display is reflective. If the light source (tube light, sun, etc) is facing the screen, then the display becomes unusable. I found this annoying when I was engrossed in a novel during a Delhi Metro ride. I had to keep shifting until I found the sweet spot for distraction-free reading. This is something you should keep in mind if you plan to use the tablet outdoors.
Performance
The review unit came pre-loaded with Windows 8 and I was able to update it to 8.1 without any hassle. In spite of the update, the software is the biggest problem with this tablet. For those who dont know, Windows 8 has two modes. One is the classic desktop mode (start button, shortcuts, taskbar, etc) and the other is Modern UIa collection of tiles, one for each app.
The desktop mode is completely useless unless you pair this tablet with a wireless keyboard and mouse. Most of the Windows apps that you have used over the years are available only in the desktop mode. I installed several and found all of them frustrating to use. I kept hitting the close key when I wanted to maximise a window and even if my finger hit the right area, it took two or three tries to execute each action. The problem is that the Windows store shows several apps that are available only in desktop mode. Had it hidden those, it would have been a lot easier to find and use apps that are optimised for touchscreens.
I tried to use the Modern UI as much as possible and found it easier to use. It doesnt feel well-optimised because there is too much blank space along the edges of the display and the tiles are a little too small. Another problem is that many times, you have to press a button to activate the virtual keyboard. On Android and iOS, the keyboard pops up automatically (or with one tap) whenever you need to type. On Windows 8, sometimes you have to tap the form and then open the keyboard.
Having said that, Modern UI does have its advantages. It lets you open two programmes at once, so if you want to keep an eye on your Twitter feed while watching a match, all you need to do is swipe. The Windows 8 store isnt as app-rich as its rivals, but with games such as Asphalt 8 and FIFA 14 available for free, its not as dull as it used to be.
The tablet performed well when used for browsing, reading and playing games. There were minor lags once in a while, but none of those led to a freeze or crash. The battery lasted around seven to eight hours with moderate usage. Constant gaming brought it down to under three hours. The tablets 5-megapixel rear camera took average photos in good lighting, and the quality deteriorated in low light.
While the Dell Venue 8 Pro has fairly good hardware, its software is a big let down. The competition is tough and its hard to justify its price tag (R26,499) when you can buy much better tablets for the same price. Apple iPad Mini with Retina Display is far better and costs R28,900, but it has just 16 GB storage as opposed to Dells 32 GB (expandable via microSD card). Among Android tablets, Google Nexus 7 is a good alternative for around R25,000 and unlike the Venue 8 Pro, it has 3G connectivity.