Chandni Chowk is famed for sarees with chikan and zari work, accessories, jewellery, souvenirs and street food. (IE photo)
Three markets from India, including two from the national capital have made it to Asia's top 20 street markets, according to a latest survey released here.
Dilli Haat and Chandni Chowk from Delhi and Arpora night market in Goa feature in the "Asia's top street markets for shopping" guide released by TripAdisor.
Thailand topped the list with the largest number of diverse street markets among the favourites followed by India and Vietnam with 3 markets each. The list includes wide variety of markets including night markets, street markets, floating markets and many more interesting formats and offerings.
"Shopping is an important part of a travel itinerary and the fact that there are a number of diverse and unusual markets in Asia for a global traveller to choose from, makes her journey a lot more fascinating," says Nikhil Ganju, Country Manager, TripAdvisor India.
"Markets reflect the culture and tradition in a region and for a tourist they are not just places to buy interesting merchandise but also a gateway to get acquainted with the region's people and their varied attitudes towards life in general," Ganju said.
Traditionally, the bazaars of India have served as good sensory guides to the country's diversity.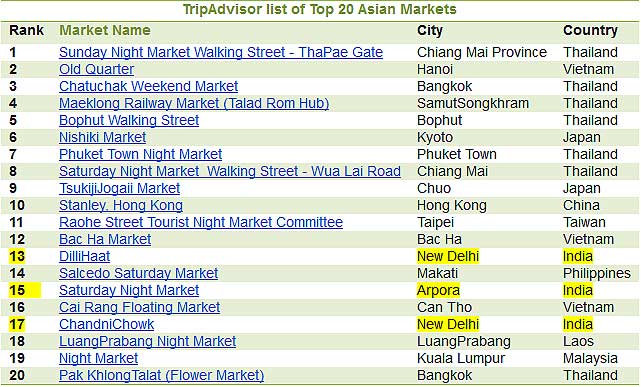 Dilli Haat (Rank 13): Modelled on a traditional weekly village market, the Dilli Haat houses a range of products ranging from handloom sarees to a blend of handicrafts and food from all over India.
"The market is beautiful and has vendors from all over India selling handicrafts, beautiful textiles and artifacts. It was so colourful and beautiful; I got many souvenirs and trinkets for my family and cousins. We also ate at the different restaurants and stalls that served many cuisines of India. I would definitely recommend it," reads a review posted by a traveller from Atlanta, Geogia on the TripAdvisor site.
Arpora Night Market (Rank 15) near North Goa beach belt is a sprawling market where one finds everything from spices, teas, mouth-watering delicacies, Kashmiri carpets and silver jewellery to unique creations of international designers, many of which may be found only here.
"This market has something for everyone! It's got live music bands, culinary feasts, drinking holes, shops shops and shops. From homemade knick knacks to Indian handicraft, from dream catchers to rustic mirrors, gypsy boxes to leather products, you name it and you get it. Dreams come true for me and my friends," a traveller from Darjeeling posted in a review.
Chandni Chowk (Rank 17)With its rich cultural heritage, Chandni Chowk is one of the oldest and busiest markets in Old Delhi. Originally meaning moonlit square or market, it it is one of the major attractions for international shoppers. It's famed for sarees with chikan and zari work, accessories, jewellery, souvenirs and street food.
Peddling through the narrow lanes of Old Delhi by Tuk-tuk is a favorite way to see the old city once named ShahJahanabad.
"It's a good idea to go by Tuk-tuk the first time, then you'll be more confident to spend hours of delight walking through by yourself or with friends. Have your camera ready because you'll want to capture it all," says a traveller from Bremerton, Washington.
Mumbai's Choicest
Although they did not make it to the TripAdvisor list of Top 20 Asian Markets, Mumbais very own markets rated highly by foreign travellers are:
1. Linking Road in posh Bandra (West) is the place to go whether you are a brands or a bargain shopper. While street vendors have an array of items like shoes, scarves, costume jewellery, bags, etc to sell, the showrooms offer almost all the major brands known in India.
2. Crawford Market is one of the oldest markets in Mumbai where one can buy all kinds of food items, especially spices and tea. The highlight of the market, now known as Mahatma Jyotiba Phule Market, is the pet mart with its array of song birds, puppies, kittens, fish and parrots on display for sale.
3. Chor Bazaar has emerged from an original Thieves Market to a place where a good bargainer can buy anything under the sun for a song. For the happy shutterbug, the Minara Masjid, Mumbai's oldest Bene Israeli synagogue, and the Jain Temple, are of special interests here. (With PTI inputs)