Last year, healthcare shares gave positive returns in range of 25-35% and outperformed Sensex. (Reuters)
Even as financial and high-beta stocks have the Street's attention, their defensive counterparts have continued to be winning bets. Healthcare and fast-moving consumer goods companies are all set to outperform benchmark indices, BSE Sensex and NSE Nifty, for the fourth consecutive year in 2013 - Sun Pharmaceuticals, Lupin, Hindustan Unilever, Dabur India, Godrej Consumer eyed.
According to data available on Bloomberg, the BSE FMCG index has given returns of 17.22%, while the BSE Healthcare index has gained almost 14% in the current calendar year (CY13). BSE Sensex having gained around 1,300 points or 6.9% since the start of September has given returns of just 2.44% so far this calendar.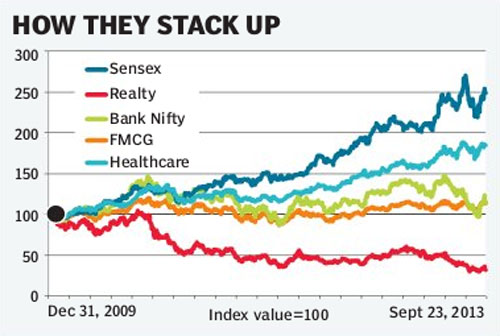 Last year, FMCG and healthcare stocks gave positive returns in the range of 25-35% and outperformed BSE Sensex, which gave positive returns of 21.33%. In the whole of 2011, the BSE FMCG index (+9.53%) and the BSE Healthcare index (-12.83%) managed to perform better than the BSE Sensex that lost nearly 25%.
Market experts said high volatility in equity markets, coupled with persistent uncertainty in the global economic environment and Indian governments reluctance in pushing through reforms, forced investors to rush to defensive sectors like FMCG and pharmaceuticals.
Balaji Prasad, MD, Barlcays Capital, in his research note, said that global growth opportunity is still solid and the US will remain the driver of growth for the next 3-5 years. Moreover, pharma companies are also positive on the long-term potential in the Indian pharma market, despite the spate of changes in price regime, ban on drugs, curb on advertising and promotional spending, and clinical trial stringency.
In 2010, FMCG stocks (31.97%) and healthcare (34.19%) had again outperformed BSE Sensex, which gave modest returns of 17.43%. Experts also highlighted drug patent expiration in the US, which opened new avenues for Indian generic drugmakers. Drugmakers also benefitted from a depreciating Indian rupee.
For instance, Eli Lillys anxiety and depression drug Cymbalta, which last year generated $4.9 billion in sales for the company, is among the top 15 out of about 120 drugs that saw patents expire this year. This is followed by Purdue Pharmas OxyContin, which sold $2.4 billion last year, and ends with Novartis osteoporosis treatment Reclast, which generated $612 million.
Pharmaceutical researcher Evaluate Pharma had projected around $290 billion of sales at risk from patent expirations between 2013 and 2018. More than 70% of that total is being lost to generic drugmakers because of the continuation of patent cliff, said a pharmaceutical analyst of a US-based brokerage house.
Analysts said even in a tough economic environment, some of the frontline Indian pharma companies have the capability to generate 16-20% topline as well as bottomline growth. For FMCG companies, several companies have continued to expand their rural distribution reach and convert indirect sales into direct sales, they said.
Data show Sun Pharmaceuticals Industries has given returns of 49% this year, while Lupin has given a 40% boost to investors' portfolio. Moreover, Sun Pharma has given returns of 130% in the last two years. Even FMCG firms like Hindustan Unilever (HUL), Godrej Consumer Products Ltd (GCPL) and Dabur India Ltd have given returns in the range of 10-30% so far this year.
Analysts believe the trend could change once the government begins to dole out more reforms to boost economic growth a move that would prompt investors to move back to cyclical and high-beta stocks like banking, real estate and infrastructure, among others. As a result, many brokerages and institutions have gradually started to go neutral from outperform.