The December quarter corporate earnings show a negative surprise of about 1% so far, according to a compilation of latest numbers by Bloomberg. The net earnings of 475 companies that announced their results till January 29 reported y-o-y sales and earnings growth of 13% and 30%, respectively. However, a minor subset of companies shows that the earnings have failed to meet analyst estimates by a margin smaller than the previous quarters.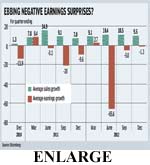 Of the 96 companies for which actual numbers were compared with analyst estimates, about 43 or less than a half reported negative earnings surprise. In the first four weeks of the September quarter earnings season, a similar study showed 56% of the 66 companies posting a negative earnings surprise of 4%.
Market observers say the improvement in negative surprises this quarter is in line with broader expectations of earnings downgrades bottoming out.
According to a Morgan Stanley analysis of the latest result cycle, six out of 10 sectors have seen expansion in Ebitda margins, the exceptions being materials, healthcare, telecom and technology.
According to the Bloomberg compilation, Jubilant Life Sciences, Dish TV, Reliance Communications, Karnataka Bank and Sintex Industries were among the few companies that showed the biggest negative surprises in net profit for the three months to December compared to the last year. Each of these companies failed to meet analyst earnings estimates by 23% to 75%. Adani Power emerged as the major disappointment as its net losses expanded to R619 crore in the period compared to R356 crore last year.
Sterlite Industries, Hero Motocorp, Idea Cellular and Sesa Goa observed negative earnings surprise of 14% to 21%, while blue chips like Dabur and Reliance Power, too, failed to meet consensus estimates, albeit with a smaller margin of 2% and 10%, respectively.
About 41 of the 96 companies disappointed on the sales even as, on the whole, the top line managed to swing in a 7% surprise compared to expectations.
Among frontline blue chips, Sesa Goa and Reliance Infra encountered sharp drops of 91% and 45% in their top line even as Infosys, HCL Tech, Kotak Mahindra Bank and Cairn India reported strong advances of 12% to 38% compared to last year.
The results of ITC, L&T and Maruti Suzuki provided the bright spots. While ITC sustained its robust operating margin in the cigarette unit, capital goods major L&T delighted the market with an strong y-o-y growth of 14% in its order book. The net profit of auto giant Maruti Suzuki more than doubled to R501 crore compared to last year, its first increase in earnings after 18 quarters.
On the other hand, Hindustan Unilever, the defensive large cap that beat the market in the last two years, reported lower-than-expected y-o-y volume growth of 5% in the three months to December. The companys decision to increase the royalty payment to its parent, Unilever, to 3.15% of sales by fiscal 2018 initiated a dozen analyst downgrades.