After averaging at $109 a barrel in 2013, prices have moved above $110/barrel in the recent past. (AP)
Even as the equity markets appeared to be factoring in the higher crude oil prices, a sustained rise in the prices could spread nervousness on the Street. The Budget-linked optimism from the Narendra Modi-led government notwithstanding, the recent rally in stocks, which has pushed up the benchmark indices by close to 19% year-to-date, may be cut short if average crude prices stay elevated.
After averaging at $109 a barrel in 2013, prices have moved above $110/barrel in the recent past. On Friday, brent crude touched $114.7, its highest since September last year on growing fears of a supply shock due to escalating tensions in Iraq as al-Qaeda forces seized control of several northern towns.
The 30-share Sensex witnessed a sharp fall in the last five-months on Friday as it declined 348 points to 25,228.17.
Data show whenever Brent remained above $70 a barrel, the return on the Sensex was either muted or negative. Over the past decade, there have been 26 quarters, in which the average price of Brent was higher than or equal to $70 mark. In 14 of these quarters or 54% of the time, the return on Sensex was less than or equal to 2% with the benchmark contracting in nine quarters.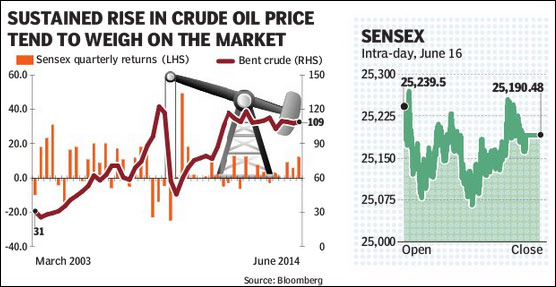 Indeed, the recent rise in crude oil prices to a nine-month high could stall the recovery in the corporate earnings in addition to affecting the balance of payments and current account deficit. Should the price of Brent a European benchmark head towards $118-120 a barrel, it would undo the government's attempts to deregulate diesel prices by allowing oil marketing companies to raise retail prices in small doses.
Piyush Garg of ICICI securities believes that in case of such a spike in oil prices, the Street may reassess assumptions made on various macro-factors including, fiscal deficit, the value of rupee as well as the inflation trajectory as the government will face a stark catch 22 situation trying to balance fiscal deficit against inflationary pressures.
Currently, the market is somewhat overbought and a sustained extension in crude oil prices could result into a 6-7% correction in the benchmarks from their peak. Nifty could even move towards 6,000 mark, added Garg.
Typically, every $10 increase in global crude oil prices strains our current account deficit (CAD) by $8-9 billion. It is estimated that every $1 increase poses an additional weight of R4,000 crore on the government finances while every R1 depreciation against the dollar mounts a burden of R9,000 crore through oil shipments.
According to Nirakar Pradhan, CIO of Future Generali Life Insurance, elevated crude oil prices above $110 mark for a longer duration could have a sentimental as well as macro-linked impact. Rising prices could subvert diesel ongoing price and aggrevate current account deficit, especially if the rupee extends its weakness.
The key reform item for the government is to move towards market driven oil prices. However, given the stubborn inflation range, the government may find it difficult to pass on the prices easily, Pradhan said.
Elevated crude oil prices could also stall the RBIs plan of monetary easing in terms of interest rate cuts since headline inflation represented by the consumer price index (CPI) which stood at 8.28% in May is looking at risks stemming from El Nino weather phenomenon.
Kotak Mahindra Bank expects the RBI to stay on an extended pause, at least till the end of the current calendar year.
Higher inflation may also postpone the earnings recovery in the next fiscal, given the impact on raw material and interest costs. While earnings of Sensex companies are expected to expand at 12% to 615% in 2014-15, the consensus estimates are pinning for a 15% to 18% recovery in the same in FY16.
It is believed that if oil prices go up due to a strong recovery in global economy, India may not feel a negative impact since the domestic economy would also benefit from this improvement.
If the rise stems from increased tension in West Asia, it may cripple recovery and remain a risk. said an analyst at a domestic brokerage house.