"Maa Ganga is very wise and can distinguish between the good, the bad and the ugly," Congress today said, reminding Narendra Modi, who had invoked the sacred river and promised to cleanse it, that "three most polluted rivers" of India flow in Gujarat.
Targeting Modi a day after his roadshow in Varanasi where he filed his nomination, the party also made a fervent appeal to people of the holy city to support it in the "battle ofideologies" and reject the divisive forces.
Party spokesman and Union Minister Kapil Sibal alleged that after filing his nomination in Varanasi, Modi wrote a letter which again was "replete with half truths."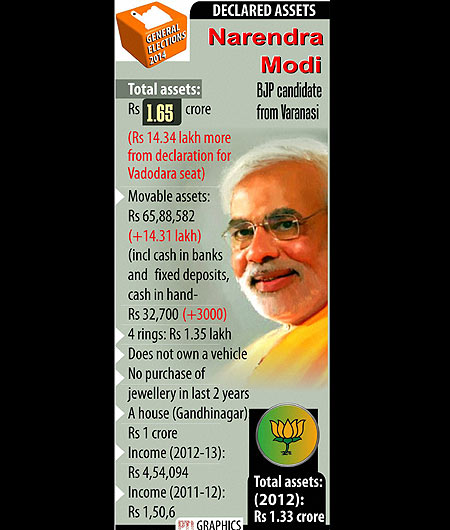 "It talks about cleaning the Ganga being 'our mother'. He then cites Sabarmati as an example. He says when he took over as Chief Minister in 2001, the condition of Sabarmati was different from what it is in 2014. In fact, Sabarmati is bedeviled with the same problems as afflict the Ganga", he said in Delhi.
Sibal remarked "Maa Ganga is very wise and it can distinguish between the good, the bad and the ugly......Modi invoked Gautam Buddha's name. What an irony. Buddha left his kingdom for Nirvana, Modi came to Varanasi for kingdom".
Rejecting Modi's claims of development in his home state, Sibal said, "vibrant Gujarat is full of vibrant lies. Lies are also vibrant and at the heart of all this is an administration run by a man for whom distorting facts is a daily routine."
He said that Modi's statement that "he will clean the Ganga with the touch of hand as if he is God" is in stark contrast to a survey of Central Pollution Control Board which said that the three most polluted rivers are in Gujarat-- Sabarmati, Khari and Amlakhadi.
In Varanasi, Union Minister and party leader Manish Tewari said the fight for Congress in this election is all about "protecting the idea of India" and asked people of Varanasi to defend its plurality and rich cultural tradition.
"It is a battle of ideologies.In this election, the fight is to protect the core values and ideology which have strong roots in Banaras," Tewari said addressing a press conference.
Asked about Modi road show yesterday, Tewari said he was told that people from neighbouring areas were "brought" to the city.
"Varanasi has rich tradition and I do not think there will be any major impact of it (road show) in the election. I was told when Rai filed nomination large number of local people had gathered," Tewari said.