No retroactive tax, flexible labour laws, right to entreprenurship: Congress Election manifesto.
WHILE promising the usual slew of rights associated with the Congress Right to Education, Right to Employment the 130-year-old party sought, on Wednesday, to tell India Inc that Narendra Modi isnt the only game in town. So, even among the rights for citizens, there is to be a Right to Entrepreneurship, to help those who wish to start businesses and Indias rank, when it comes to the Ease of Doing Business, is to be raised to 75 from 134 in five years.
The 15-point agenda is dominated by economic issues, an attempt to reassure India Inc that it will deliver on reforms. Flexible labour laws are on the agenda although theres no mention of the Industrial Disputes Act, the Apprentice Act, 1961, is to be reformed to encourage more firms to hire apprentices, which is a big positive. However, even as several measures to put the economy back on the rails have been listed, its evident the party is not about to abandon its numerous entitlement schemes.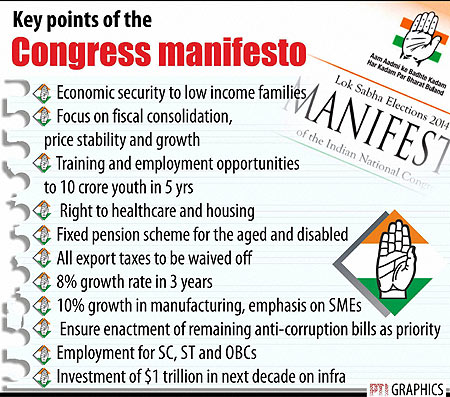 While the BJP prime ministerial candidate Narendra Modi has spoken of bullet trains, the Congress speaks of high-speed trains all one-million-plus cities are
to be covered.
Conscious of the fact that the Indian economy has nearly ground to a halt over the past year, the manifesto commits to restoring growth to 8% a year within three years, a rate to be sustained over two decades GDP in the third quarter of FY14 came in at 4.7%. The party believes it can deliver manufacturing growth of 10% with special emphasis on small and medium enterprises.
There is also an effort to assuage the concerns of foreign investors; the drawn-out dispute with British telecom major Vodafone over taxes, it would appear, has prompted the party to promise it would ensure that the unpredictable risk of retroactive taxation is avoided. However, the manifesto asserts, at the same time, that the government will ensure foreign companies pay taxes where profits are earned.
The party ostensibly wants to win back the confidence of industry. Support will be given to more transparent, competitive and better-regulated public-private partnerships, the manifesto states, arguing the model must be widely used with new financing structures to access long-term funds. There is also mention of $1 trillion to be spent over the next decade on power, transport and infrastructure.
The Congress also seeks to give a push to planned urbanisation, creating inclusive cities and revamping urban governance; it hopes to achieve this by empowering mayors, increasing their tenures and allowing them as also chairpersons of municipalities to function much like CEOs of cities with executive powers.
There are measures aimed at increasing financial inclusion: The manifesto talks of every citizen having a bank account within the next five years; the Nachiket Mor commitee had recommended that by January 2016 every citizen above the age of 18 should have a fully-functional electronic bank account.
The manifesto talks of encouraging foreign direct investment in labour-intensive sectors UPA II had thrown the open multi-brand retail space to FDI in September, 2012 albeit with a cap of 51%. There are also the expected noises on reining in inflation and improving productivity in agriculture.
Read: China praises Malaysia Airlines for plane search efforts
The party hasnt provided details on how it would promote a more open and competitive economy for example, whether coal mining would be freed up though it says it would open the economy to more global and domestic competition.
Also Read: More misery for kin over Malaysia Airlines MH370 plane, search flounders, weather set to turn for the worse