As per BofAML, after five quarters of earnings misses, the y-o-y profit growth of Sensex companies was mainly due to a weaker currency.
The Street has deemed the latest quarterly earning cycle to be ahead of estimates with Sensex companies managing to post better-than-expected earnings growth. However, experts seem divided on the possibility of earnings upgrades from here on.
While leading brokers acknowledge the visible improvement in the net profit growth of Sensex companies, some are unconvinced the trend will continue in coming quarters.
As per Bank of America Merrill Lynch (BofAML), after five quarters of earnings misses, the y-o-y profit growth of Sensex companies at 14.5% was ahead of its estimates, mainly due to a weaker currency. However, broader earnings continued to disappoint with the earnings growth of its universe of more than 125 companies missing estimates by 4.6%, notes BofAML.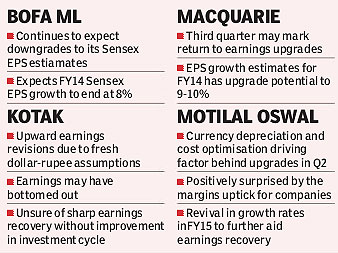 Foreign brokerage points out that after the latest results, even as the bottom-up Sensex earnings per share (EPS) for fiscal 2013-14 has moved up to Rs 1,330 against Rs 1,320 previously, the earnings recovery may not be broad based.
We do not expect this to be a broad-based earnings recovery and continue to expect downgrades to our Sensex EPS estimates and expect FY14 Sensex EPS growth to end at 8% growth (vs.12.5% currently)' said a recent note by BofAML.
According to Kotak Institutional Equities, at 13.7 times FY15 earnings estimate, Sensex is currently fairly valued and may be already discounting a moderate recovery in earnings. In a recent quarterly results review, the domestic brokerage house agreed that earnings had bottomed out and raised its estimates for Sensex earnings growth for FY14 and FY15 to 9.8% and 13% respectively.
However, Kotak differs with the consensus outlook on valuations due to potential risks stemming from India's unstable macro-economic situation, upcoming elections and the possibility of global liquidity turning less benign.
We broadly concur with the Streets view that earnings may have bottomed out. However, we are less sure about a sharp recovery in earnings unless we see visible signs of recovery in the investment cycle, it said in the review note.
Meanwhile, Macquarie observed the earnings revision ratio (ERR) has moved up to 0.8 with the festive season turning better than expected. It thinks the third quarter may mark the return of upgrades and adds consensus estimates for the fiscal are too pessimistic.
We think 5-6% EPS growth estimate for FY14 has an upgrade potential to 9-10%, it said in a note called Eye on India. However, it believes with such upgrades, FY15 EPS growth estimates will look more reasonable at 11-12% as compared to the current estimates of 16% to 17% growth.