After two stagnant years, April-September coal output posted a robust growth of 8.5%. Public sector Coal India (CIL) and private players with captive mines ramped up production after a worried government put them on notice.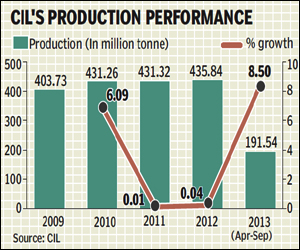 CIL exceeded its production target in the first half. If the trend continues, the pressure on the coal import bill may ease, helping reduce the country's trade deficit. Coal shortage has put several power sector projects on hold.
About six months ago, the government started putting pressure on CIL to raise production and held out the threat of cancellation over companies sitting on captive mines. As a result, private players sitting on blocks for years started mining, said BK Chaturvedi, member (energy), Planning Commission.
CIL, which reported almost nil production growth in the past two financial years, saw production rising 8.5% to 191.54 million tonnes in the first half of this year. During August-September, growth was even higher at 10%.
CIL chairman S Narsing Rao attributed the improvement to proactive production monitoring by the company. We have stepped up mine-wise monitoring. All our subsidiaries could manage their production better this year, Rao told FE, adding the company will achieve its production target of 468.78 million tonnes this year.
The government has directed CIL to meet at least 80% of the coal requirement of power companies under a new fuel supply agreement regime and import coal to meet the shortfall. Efforts are under way to work out a pool pricing mechanism to help the PSU pass on the impact of the high cost of imported coal evenly across the industry.
Coal production in north India would normally be lower in the first half compared with the second half of the year due to waterlogging in mines during monsoon.
Of late, Prime Minister Manmohan Singh has taken a keen interest to improve fuel supplies to industries, especially the power sector. Singh's principal secretary Pulok Chatterjee has been holding regular meetings with coal ministry and CIL officials to speed up resolution of fuel issues for the power sector.
CIL's production turnaround seems to be a result of pure government pressure, with its entire incremental production coming from existing mines. The coal producer has not commissioned any new mining project during this period.
Analysts, however, said the question is whether CIL could sustain the momentum. CIL is stressing on improving production from existing mines, which is reflected in its financial performance. The efforts seem to be sustainable, said Dilip Kumar Jena, senior consultant and knowledge manager, mining, PwC.
India imported 89 million tonnes of coal during 2011-12 and the figure is expected to cross 100 million tonnes this year. Given the recent trend of stagnation at CIL, the Planning Commission had estimated that India's coal imports could rise to 138 million tonnes in the year 2016-17. This could drain out $ 25-30 billion of forex reserves, depending on market price. But the turnaround, if sustained, could go a long way in reducing India's dependence on imported coal and check forex outflows.
But a resurgent CIL has said that it may not have to import any coal for pooling from 2006-17 and that it can meet fuel requirement of the power sector from indigenous production alone. About 80% of CIL's production is non-coking coal which is consumed by the power sector.