Setting the stage for his maiden Budget, finance minister Arun Jaitley on Wednesday tabled the Economic Survey FY14 in Parliament, featuring the governments plan to unleash the economys productive capacity with an impressive array of reforms, ranging from the farm sector to infrastructure financing, energy and taxation. Leading by example, Jaitley may announce a central goods and service tax (CGST) that combines excise duty and service tax as a precursor to a full-fledged GST where principal state taxes would also be eventually subsumed.
Once CenGST is implemented and the information technology system for it has worked, (revenue) estimation risk will be lower and it will be easier for the Centre and the states to move to the GST, said the survey.
Written by a team of senior economists at the finance ministry, this edition of the annual survey tended to be more realistic in its assessment of the state of the economy and prognostication than several previous ones a reversion to a growth rate of 7-8% can occur beyond the ongoing and the next fiscal and lamented the resource preemptionby the government that constrains external financing for the private sector.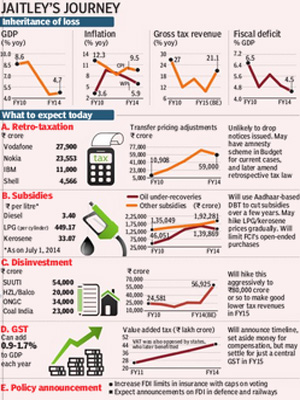 It pitched for new fiscal prudence legislation with teeth (the extant one, enacted in 2003, has been virtually violated several times as the previous two governments went with political expediencies), while admitting that last year's fiscal deficit reduction (to 4.5% of GDP) was achieved with lower-than-expected expenditure. This, analysts said, signalled that Thursday's Union Budget would likely revise the deficit estimates for FY14 upwards to present a less concealed picture of central government finances. Stating that the fiscal situation of the central government is worse than it appears, the survey said the situation warranted a fresh thinking on a responsible fiscal policy framework. The modified FRBM Act needs to take into account business cycles and to have penalties that are strong enough so that it cant be ignored, it said.
According to the survey, the country needed to urgently revamp its major social sector schemes, including on rural jobs, health and education, as outlays for them are not being translated into outcomes because of a poor delivery mechanism. It also proposed a greater role for private players and detection of pilferage and ghost beneficiaries through effective use of technology. The country's corporate tax rate of 30%, the survey said, could be brought down to achieve parity with the median of the rates followed by all emerging markets, in order to be globally competitive in attracting investments.
The survey called for denationalisation of commercial coal mining, but said that only a limited number of private companies with proven track record be allowed. It said all irritant imposts like cesses, surcharges and transaction taxes could be done away with and tax administration be simplified with use of technology. Amid the raging debate over the proposed revision of domestic gas price, the survey advocated pricing parity with global benchmarks for indigenously produced natural resources such as natural gas, coal and crude oil, saying that absent this, it would lead to under-investment.
At a time projects awarded under the public-private partnership (PPP) model in roads, power generation, etc, are faced with hurdles (with instance of funds-starved developers quitting projects, renegotiation of contract awards, requirement of regulatory leniency, etc), the government contended that the present model of infrastructure contracting and financing requires to be re-examined.
Noting that infrastructure projects are best financed through corporate bonds (rather than the current model of bank financing with a 70:30 debt-equity ratio), the survey said: The first wave of infrastructure investment in India has been grounded in an array of design flaws that now need to be addressed.
The government, which had argued for a seamless pan-India market for agricultural produce, cemented that resolve by stating in the survey that Parliament, which has the power to regulate a national market under the Constitution, could create a new law that would override state APMC laws and the restrictions placed on the farmers' right to sell food within and outside their states.
As far as the growth estimate for FY15 is concerned, the survey authors have been wary and more or less in line with the Reserve Bank of India's June forecast of 5.5%. The economy, as per the survey, can recover only gradually with GDP expected to grow in the range of 5.4-5.9% in FY15. Stating that growth would more or less remain on the lower side of the range, it also added a cautionary note: This assumes the level of growth in the industrial sector witnessed in April 2014 to continue for the rest of the year, the generally benign outlook on oil prices and the absence of pronounced destabilizing shocks including below-normal monsoon. Growth in the above range implies a pick-up, aided by an improved external economic situation characterised by stable current account, steady capital inflows, improved fiscal situation and on the supply side, robust electricity generation and some recovery in manufacturing and non-government services.
Explaining how the economy, hit by structural constraints and external factors, is poised, the survey said that still, aggregate demand grew 5% in FY14 compared with 4.7% in the previous year, mainly owing to a higher level of net exports that partly offset the adverse effects of a torpor in fixed investment, which hardly grew between FY12 and FY14. Sustenance of early signs of growth pick-up depends on amelioration of structural constraints, it asserted.