Ache din aane wale hain, the new epiphany reflecting the mood of the nation, literally came knocking at the doors of the residents of three DLF projectsBelaire, Park Place and Magnoliaswithin days of Narendra Modi-led BJP winning the 2014 Lok Sabha elections with an outstanding majority.
The harbinger of the good news was the Competition Appellate Tribunal (COMPAT) which, on May 19, upheld an earlier decision of the Competition Commission of India (CCI) penalising DLF to the tune of R630 crore for abusing its dominant position in the real estate market of Gurgaon. The Competition Act, 2002, prohibits companies with superlative market power from exploiting consumers.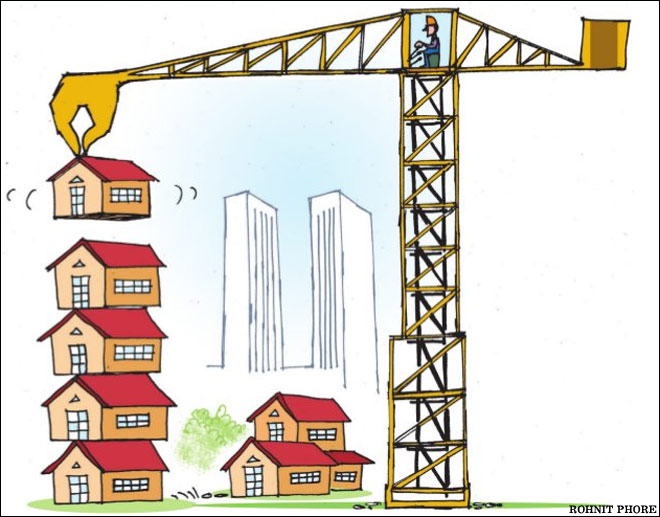 The main contention of the residents of Belaire, Park Place and Magnolias against DLF was that the real estate major was using its dominant position to impose arbitrary, unfair and unreasonable conditions on its apartment allottees.
CCI agreed with the contentions of the apartment allottees and, in its 237-page order, pointed out several onerous clauses of the standard DLF apartment buyer agreement. Such clauses, inter alia, allowed DLF to unilaterally increase the number of floors, change unequal interest rates on default, and costly exit option for the allottees. Further, it was also alleged by the residents that the allottees were required to pay a substantial amount upfront even before signing the agreement, and that the areas and facilities originally earmarked for the apartment allottees were substantially compressed. For example, DLF decided to raise the number of floors from 19 to 29 in Belaire without the consent of the allottees, which led to the number of apartments increasing to around 544 from 368 on the same land area. Besides, the projects were also abnormally delayed, resulting in financial losses to several apartment allottees.
CCI and COMPATs decision against DLF is in consonance of the age-old maxim of contra proferentem (against the offeror), where onerous and unfair terms of standard-form contracts are typically interpreted against the interests of the dominant contracting party, i.e. DLF. COMPAT has further held that dominant players like DLF have a special responsibility towards the industry to be within four corners of law, to set the trend for smaller real estate companies to follow.
DLF predictably has decided to appeal against the decision of COMPAT in the Supreme Court. However, now that COMPAT has upheld the decision of CCI, under the provisions of Indias Competition Act, residents of DLF built apartments who have faced similar exploitative abuses can either individually file or after forming a group of similarly affected persons file a US style class action suit in COMPAT against DLF to claim damages under the Competition Act, which may potentially run into thousands of crores of rupees.
This begs a larger questionwhat about the rest of Indias apartment buyers who face similar exploitative flak from other real estate builders. Has the DLF decision had any real impact upon the unfair and deceptive trade practices of Indias major real estate developers Far from being chastised, DLF is again under CCIs scanner for allegedly drafting another one-sided agreement with flat buyers in its New Town Heights project in Gurgaon. As was admitted by DLF that the onerous terms of its apartment buyer agreement were largely common to all builders and real estate developersin other words, an industry practicemost of the other developers in the region are also following similar unfair trade practices.
One may ask why other builders are not taken to task in the same way as DLF. In fact, encouraged by CCIs DLF judgment, the fair trade regulator received numerous similar complaints against several major real estate developersincluding Hiranandani Infrastructure & Real Estate Company,Raheja Developers and Omaxe Group. However, even though such companies might be indulging in similar exploitative tactics, CCI dismissed most of these cases because such companies, unlike DLF, did not enjoy a position of dominance in the relevant real estate market. Under the provisions of the Competition Act, non-dominant companies cannot be penalised for exploitative market conduct. CCI has clarified that the intent of the abuse of dominance provisions of the Competition Act (under which DLF was charged) is to curb anti-competitive practices of a dominant market player, which may ultimately kill competition in such markets. The law presumes that small, non-dominant companies, even if indulging in exploitative practices and tactics, do not have the economic power to kill competition, and are beyond CCI jurisdiction.
CCI is right in its interpretation, and for any and all injustice done by the builder to the consumer, the remedy does not lie within Indias competition laws. However, while the apartment buyers of dominant real estate developers like DLF are provided an effective avenue to address their concerns, apartment buyers of smaller builders, although subject to similar exploitative terms, are left to suffer. Their only recourse is before Indias consumer law forums, which are hardly as efficacious in delivering justice. There are other issues too, whether such a plethora of litigation can be avoided
There was a glimmer of hope when COMPAT, while hearing DLFs appeal, asked CCI to draft a model apartment buyer agreement, which would level the playing field between the builders and the apartment buyers and serve as a benchmark for the largely unregulated Indian real estate industry.
Although CCI did draft and publish a model apartment buyer agreement, COMPAT in its final order, while upholding the penalty imposed upon DLF, refused to mandate DLFs compliance with the provisions of the model agreement. COMPAT used a technicality in section 27 of the Competition Act to interpret that although CCI did have the right to impose monetary penalties on any dominant company for indulging in exploitative conduct, the agency did not have the power to modify any agreement, pursuant to which such exploitative acts were being perpetuated.
The DLF case reveals another disturbing trend in Indias real estate industrythe practice of major builders to flagrantly violate the building/planning rules of various town/urban planning agencies. For example, DLF like many other developers had started collecting advances for bookings for its Belaire project, well before it had any approved building plans from the Haryana town and planning authorities. In another instance, the Allahabad High Court, in April, acting on a petition filed by a resident welfare association, ordered the demolition of two 40-storey towers in Supertechs Emerald Court in Noida, which were built in violation of provisions of UP Apartments Act, 2010. Such practices are made easier by the absence of a regulator for the Indian real estate industry.
The outgoing UPA governments Cabinet had approved the Real Estate (Regulation & Development) Bill in 2013, with the aim of creating an Indian real estate regulatory authority and an Appellate Tribunal that will act as a watchdog for the housing sector, primarily towards protecting consumer interests. Such legislative efforts, however, did not materialise into law, and the hapless apartment buyers in India, lacking any institutionalised forum of grievance redressal, continue to run from pillar-to-post to obtain relief against very deep-pocketed real estate giants.
While we wait for Indias real estate regulator to be born, a solution has to be found for the woes of thousands of such flat-buyers who have invested their lifelong savingsin many cases, after raising loans from banksand have started paying EMIs. The principle of contra proferentem is equally applicable in their cases. It will be desirable if the various state governments, while granting licences, could ensure that their respective town/urban planning agencies require real estate developers and builders to accept self-disciplining measures. For example, urban-planning agencies like state town planning departments, NOIDA, etc, could require builders seeking real estate development permits to undertake that their apartment buyer agreements would be in sync with CCIs model buyer agreement and build suitable provisions in the licensing agreement for its compliance. Further, real estate associations like the Confederation of Real Estate Developers of India or self-regulatory bodies like the National Real Estate Development Council might encourage and guide their members to voluntarily adopt CCIs model agreement. This may avoid considerable litigation and costs for everyone, besides stuck projects, be fair to both the developers and buyers, and ultimately result in speedier growth of this important sector of economy.
Dhanendra Kumar & Avirup Bose
Dhanendra Kumar is former chairman of the Competition Commission of India (CCI) and Avirup Bose is a competition lawyer with CCI. Views are personal