The 12th edition of the Auto Expo is all set to begin. For the first time, this mega automotive event will be organised over two venues. While the Components Show will be held at Pragati Maidan in Delhi from February 6-9, the Motor Show will take place at the new venue called the India Expo Mart in Greater Noida from February 7-11.
Organisers believe that such a step will ensure that the event is of global standards and is without the chaos and crowd mismanagement that marred previous shows. The overall display space this time is up by 30%.
Gallery: Cars to watch out for at Delhi Auto Expo 2014
Last year was a very tough year for the automobile industry in India on the whole with factors such as the slowdown in the economy, rising fuel costs, less disposable income and poor sentiment negatively affecting sales.
The Auto Expo 2014 is expected to infuse some amount of positive sentiment into the industry; this may just revive the auto industry to an extent. As many as 70 new vehicles will be unveiled at the Motor Show, with 26 global unveilings, of which 15 are cars. Alongside, there will be a special theme pavilion to promote hybrid and electric mobility.
Buying a used car Check Prices
This is going to be the biggest show India has ever witnessed, and we are gearing up for comprehensive coverage. But before that, lets have a look at some of the hottest car unveilings.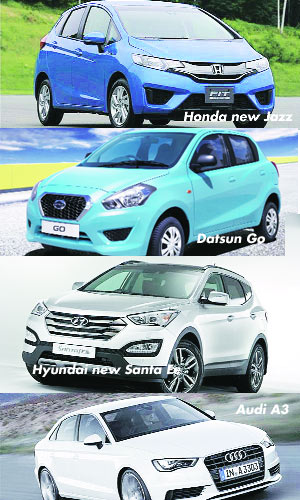 Cars to watch out for:
* Maruti Suzuki Celerio: Expected to be the most popular launch of the year. It will introduce to India the Auto Gear Shift technology
* Datsun Go: The Datsun Go just might change the way small cars are viewed in India. It is among the largest small cars
* Honda new Jazz: The Jazz had a good design but poor pricing, so the car was taken off the shelves. Honda may not repeat the mistake
* Volkswagen Taigun: With the Taigun, Volkswagen will try not to repeat what Skoda did with the Yeti. It is VWs future SUV face
* Audi A3: Audi perhaps doesnt believe that India is ready for a luxury hatchback, thats why the A3 compact luxury sedan
* BMW 3 Series GT: It will be one of the most important unveilings by the Bavarian carmaker at the Auto Expo
* Hyundai new Santa Fe: The Korean company has consistently failed with SUVs in India, but the new Santa Fe just might change that
* Mercedes-Benz GLA: Hot on the heels of the Audi Q3 and the BMW 1 Series, Mercedes will bring to India the dynamically-styled GLA
* Honda Mobilio: Much worried would be Maruti Ertiga, because the Mobilio, from the looks of its, appears to be a promising car
*Audi R18 e-tron quattro: Also on display will be the Audi R18 e-tron quattrothe Le Mans Prototype (LMP) racing car. It is a super sports performer that will be in the limelight