Car sales saw a modest growth in January against the same period last year. Even as market leader Maruti Suzuki saw monthly volumes cross the 1-lakh mark for the first time in FY13, among the major players, Tata Motors saw sales dip sharply by 56%, leading to production cuts.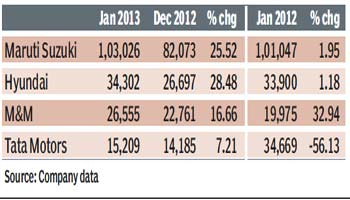 Utility vehicle major Mahindra & Mahindra (M&M) outdid peers with a 33% jump in volumes driven by the continued strong demand for cheaper-to-run diesel cars.
Compared with the previous month of December, January sales for carmakers saw a jump. In December, sales had sharply slowed down as customers advanced purchases to the new year instead.
Maruti Suzukis sales rose 2% to 1.03 lakh units in the month on the back of diesel models such as the Ertiga MPV and Dzire compact sedan. Sales of SX4 and petrol-focussed models like the Alto, WagonR and A-Star fell. Rival Hyundai saw sales jump 1.2% to 34,302 units, while its exports sharply improved with a 11% jump (to 17,722 units). Hyundai is the largest car exporter in India.
The market was subdued on account of macro-economic factors. The change in price differential between petrol and diesel prices has increased interest in petrol cars, reflecting in the waiting period of models like the Eon, i20 and Verna petrol. Marketing initiatives in the rural markets are bringing volume growth, Rakesh Srivastava, vice-president for sales and marketing at Hyundai Motor India, said.
Added Pravin Shah, chief executive (automotive) at M&M, The recently announced reduction of 25 basis points both in the repo and CRR rates is a positive step and is expected to bring in the much-desired momentum in the market. The industry has already seen reductions in auto loan rates announced by some banks that will help improve customer sentiments.
Toyota Kirloskar saw sales decline 23% to 13,329 units, while US-based Ford and General Motors also saw a 34% (to 6,062 units) and 8% (to 7,588 units) drop in domestic sales respectively. However, Honda Car tripled volumes in the month to 5,451 units, largely because of a low base of last year.
Sandeep Singh, deputy MD and COO, marketing and commercial, Toyota Kirloskar, said, The market is still witnessing a slowdown, especially the passenger car segment. The prospects for the second half of 2013 look better. With the Budget round the corner we are looking for some more measures that will bring about positive growth.
Among two-wheeler makers, Honda Motorcycle & Scooter India saw sales rise 22% to 2.30 lakh units, while Suzuki Two-wheelers saw a 14% jump in volumes to 39,982 units.