Passenger car sales declined to 1,63,199 units in October compared to 1,69,788 in same month of 2012. Reuters
Passenger car sales declined by 3.88 per cent to 1,63,199 units in
October
this year compared to 1,69,788 in the same month of 2012.
According to the data released by the Society of Indian Automobile Manufacturers (SIAM), motorcycle sales in last month grew by 18.05 per cent to 11,05,103 units from 9,36,122 in the same month previous year.
Total two-wheeler sales in October 2013 grew by 18 per cent to 15,16,291 units from 12,85,015 in the same period of previous year.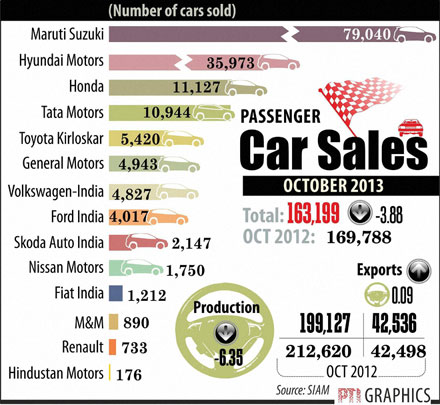 Total sales of commercial vehicles were down by 19.77 per cent to 53,533 units from 66,722 in the year-ago period, SIAM said.
Also read: What oil Choosing the right engine oil for your car
However, total sale of vehicles across categories registered a growth of 12.56 per cent to 18,58,386 units in October 2013 as against 16,51,028 units in the same month of 2012, it added.
Car sales seen falling in FY14: SIAM
(Reuters) Car sales in India are expected to fall in the current financial year that ends in March, an industry body said, marking a second straight year of decline, as high interest rates and a slowing economy force consumers to delay purchases.
Automakers sold 163,199 cars in India last month, a drop of 3.9 percent from a year earlier, data from the Society of Indian Automobile Manufacturers (SIAM) showed.
SIAM had estimated in April that car sales would grow by 3-5 percent this year, but has indicated in recent months that they may fall instead.
Car sales had declined continuously in the first nine months of the year, said Vishnu Mathur, director general at SIAM.
"Now the decline is moderating, so if it keeps on moderating at this pace maybe we'll see zero growth in January-February," said Mathur.
"Definitely the year will be negative," he added
Sales of motorcycles rose 18.1 percent in October to a record 1.1 million, helped by festive season demand and strong sales in rural regions, where incomes were boosted by good monsoon rains.
The September to December months, marked by a number of festivals, are considered by many Indians to be an auspicious period to make big-ticket purchases.
Truck and bus sales were down 19.8 percent at 53,533 units, SIAM said.
Meagre urban salary hikes in an economy growing at its slowest pace in a decade, combined with high interest rates and fuel costs has dimmed the near-term outlook for the Indian auto industry. Some analysts have pushed back forecasts for a sustained recovery to the next financial year.