Engineering major Larsen & Toubro on Monday said the Canada Pension Plan Investment Board (CPPIB) had agreed to invest over Rs 2,000 crore in its infrastructure arm, L&T Infrastructure Development Projects (L&T IDPL). The company said the partnership would help it to complete its ongoing projects.
This is the first direct private investment by a Canadian pension fund in a domestic infrastructure development company, group chief financial officer R Shankar Raman said.
A wholly-owned subsidiary of CPPIB, CPP Investment Board Singaporean Holdings 1 (CPPIBSH), will make an initial investment of R1,000 crore, which will be followed by a second tranche of R1,000 crore, or a higher amount that may be agreed between L&T and CPPIBSH, after a year from the date of the initial investment, subject to required regulatory approvals at that time, L&T said in a statement.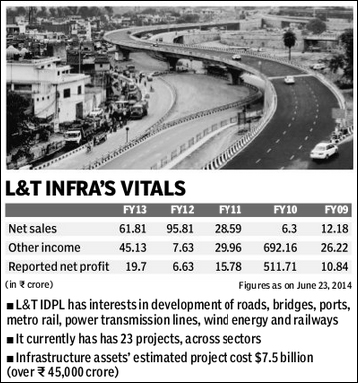 CPPIBSH will invest in preference shares of L&T IDPL, which are compulsorily convertible into equity shares by 2018 at a valuation to be determined as per a mutually agreed process. "Post-conversion, CPPIBSH will hold a minority stake in the equity capital of L&T IDPL," L&T said.
Commenting on the partnership, Shankar Raman said that in CPPIB, the company has found a partner with a long 20-30 year view on India, and is different from normal private equity funds that have restrictions of giving returns to investors after five years or so. He ruled out the possibility that CPPIB has been brought in with a view to do a stockmarket listing for IDPL anytime soon, giving a natural exit to the investor.
"We were looking for someone with long tenor liabilities, the likes of insurance companies, pension funds and sovereign wealth funds. We feel that to take advantage of infrastructure development in India over the next 15-20 years, L&T's balance sheet at some point in time will become insufficient. To supplement our own resources we have been looking out for people and of the several conversations we had, we were able to progress with Canadian Pension Fund to reach this stage where we have signed a definitive agreement," Raman told FE.
Andr Bourbonnais, senior VP (private investments), CPPIB said, This transaction fits well with our strategy for India as a key long-term market. We look forward to partnering L&T and L&T IDPLs experienced management teams...
L&T IDPL has business interests in the development of roads and bridges, ports, metro rail, power transmission lines, wind energy, water and railways, with a current potfolio of 23 projects across sectors with an estimated project cost of $7.5 billion (over R45,000 crore). It clocked R61.81 crore in net sales in financial year 2012-2013, and reported net profit of R19.7 crore.
Raman added that while the funds will be used for completion of under-construction assets, the partnership with CPPIB will not be limited to the R2,000 crore. In fact, both partners will come together to bid for future projects as well. "As any equity partnership, it is an enduring partnership partnership, unless the partners decide to move away. So, the idea is that they (CCPIB) will stick with us through thick and thin for many years together," he said.
He did not comment on the valuations at which the conversion to equity shares will take place, and just said that there is a valuation that the company is targeting between March 2016 and September 2018, and once that is achieved, funds that IDPL is getting at present in terms of preference shares, will be converted into shares in IDPL.
"The infrastructure sector has been mauled over the last 18-24 months. So, at present, they would be valuing the portfolio at its lowest ebb. So, we have agreed with Canadian Pension Fund that we will wait for three years or so from today for normalcy to return to this sector and then all of us would be better placed to appropriately value the portfolio".
As for the listing of the six road assets as infra trusts in Singapore, Raman said the plan still holds as the company is looking to monetise those assests, and the benefits of that which will accrue to L&T will also go to CPPIB. "The model would be to develop projects, and on completing them successfully hand them over to somebody else, collect the cash and invest in another set of assets, and constantly keep churning the portfolio," he said. Raman is expecting the listing to happen after September.