Remains one of our top IT sector picks:
Wipro
delivered constant-currency quarter-on-quarter growth of 3.2% and Ebit (earnings before interest and taxes) margin expansion of 250 basis points q-o-q. Q3 guidance is decent in the context of seasonality. The good Q2 result/guidance validates our thesis of improving revenue outlook and some room for margin expansion. Raise our TP (target price) to R595one of our top picks (along with HCLT) in the Indian IT services space.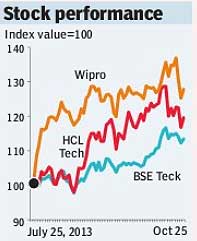 IT services revenue at $1,631m was up 2.7% q-o-q (up 3.2% q-o-q in constant currency) vs.guidance range of 2 to 4%. After several lacklustre quarters (-2% to 1% q-o-q constant currency growth over the last six quarters), Americas saw growth returningup a robust 3% q-o-q. Among geographies, growth was led by Media & Telecom (+5.6% q-o-q) and Healthcare & Life sciences (up 6.4% q-o-q in cc).
Ebit margins at 22.5% also surprised positively, up 250bp q-o-qheadwinds due to wage hikes were mitigated through operational efficiencies. Profit after tax was R19.3 bn.
Q3 guidance strong; suggests recovery on track: Wipro guided to 1.8% -3.6% q-o-q growth in Q3 ($1,660 to $1,690m) fairly strong guidance in the context of seasonal trends. Management commentary was optimistic, suggesting that client confidence is on the uptick--also reflected in Wipros results.
Citi CIO survey suggests a pickup: Our latest Citi CIO survey points to a good pickup in Wipros wallet share over the past few quarters this should be a positive for Wipros medium-term growth trajectory.
Earnings call takeaways: (i) Strong momentum on deal wins seen in Q1, continued into Q2. (ii) Top 125 clients expanded 3.6% q-o-qfocus on client mining remains high. (iii) Good demand trends in Europe (Q2 was an aberration), especially around cost takeouts. (iv) Investing in several productivity initiatives.
Raise earnings and TP: We raise our earnings estimates by 4-7% as we factor in a good Q2 and tweak our growth/margin assumptions. We also raise our target multiple to 16x (from earlier 15x) in line with what we have done for most of the sectorour new target price is R595. Key risks to our call relate to turnaround related quarterly volatility at Wipro and Immigration bill risk for the sector.
Citi