Mahindra & Mahindra Ltd's
June-14 domestic tractor volumes at 28,893 units (+8.1% year-on-year, 25% month-on-month) witnessed a pick-up in growth. Last years growth (+22%) was aided by a strong monsoon (6% above average) while this years monsoon (40% YTD deficit) is expected to be weak due to the El Nio effect. We forecast FY15 growth at 8%, in line with the long-term trend rate of growth. The company has guided for tractor growth of 8-10% in FY15e. Our FY15 estimate implies a monthly run-rate (MRR) of 22,881 units over the next nine months vs. an YTD rate of 23,973 units.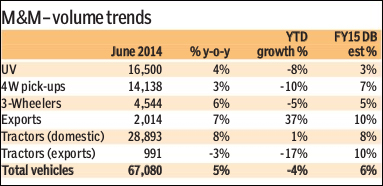 Utility vehicle volumes grew over lower base: UV volumes for the month at 16,500 units (+4% y-o-y) grew for the first time in the past 12 months due to the base effect. We are forecasting UV volumes to stabilise in FY15 (+3%) followed by a strong revival in FY16 (+30%). Our FY15 forecast implies a MRR of 19,305 units over the next nine months of FY15e vs.YTD rate of 17,396 units.
We maintain our Buy rating on the stock with a target price of R1,328. M&M's automotive segment margins have remained resilient in the weak demand environment and we are forecasting volume revival over FY15-16e. For the tractor segment we expect volume growth to normalise over the same period. The core business trades at 10.5xFY16 PE (price-to-earnings ratio) which provides adequate valuation cushion.
Other highlights
n Four-wheeler pick -up volumes were at 14,138 (+2.7% y-o-y). Our forecast of 7% growth in FY15 implies a MRR of 16,847 units over the next nine months vs. YTD MRR of 12,884 units.
n Three-wheeler volumes were 4,544 units (+5.66% y-o-y). Our forecast (5% growth) implies a MRR of 5,993 units for the next nine months vs YTD MRR of 3,936 units.
Deutsche