Mahindra & Mahindra Ltd
shares: Attractive valuations prompt an upgrade. We (Kotak Institutional Equities) upgrade the stock to Buy from Add after a recent correction in the stock price on concerns of a decline in UV (utility vehicle) demand. We believe weakness in UV demand is in the price while tractor demand will surprise positively.
All about Mahindra & Mahindra: Search
The shares trade at inexpensive valuations of 8.5x FY2015e EPS (ex subsidiary value), which is cheap, considering 7% earnings growth over the next two years. We maintain our target price of Rs 1,000, based on the SOTP valuation methodology.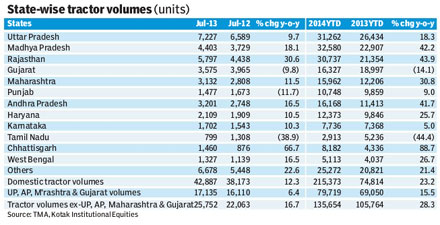 Fundamental drivers of tractor demand are in place: A sharp rise in crop prices, low tractor penetration, strong rural demand and good monsoons are likely to keep tractor demand strong in FY14. Reservoir levels are at higher than the 10-year average, which is likely to aid the Rabi crop. Domestic tractor volumes grew by 23% year-on-year over April-July 2013 and demand has been quite broad-based except in Gujarat and Tamil Nadu. Mahindra and Mahindra (M&M) gained 300 bps (basis points) market share over April-July 2013, primarily gaining market share in Western and Central India. We expect domestic tractor industry volumes to grow at 13% y-o-y in FY2014 and M&M tractor volumes to grow by 17% y-o-y, driven by a 200 bps gain in market share.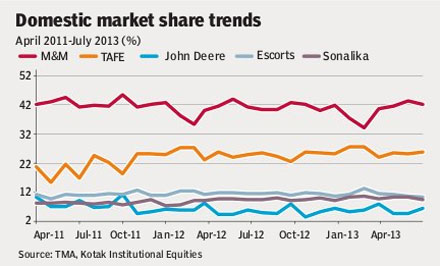 UV business weakness is likely in the price: M&Ms domestic utility vehicle volumes declined by 9% y-o-y over April-July 2013, driven by market-share loss to competition. The company does not have any major launch in the UV segment until the end of FY15, which will put pressure on the companys UV business. We expect a 12% y-o-y decline in UV volumes in FY14 and a 200 bps decline in the UV business Ebitda margin. We expect M&M to deliver flat earnings growth in FY2014 despite weakness in the UV business, supported by strong demand in the tractor business.
M&M is working on reducing its products' ground clearance to reduce the prices of SUVs to protect its volumes.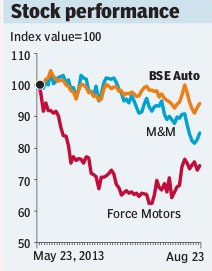 Kotak Institutional Equities