The fiscally stressed Centres recent decision to annul subsidy on bulk diesel has shaken up the perennially loss-making public sector road transport corporations (RTCs) in the country. State governments, the patrons of these entities, which together own 1.5 lakh buses and play a vital economic function by contributing to the mobility of people and goods, have firmed up disparate strategies to salvage the situation. FE has ascertained whether and how the RTCs have taken the sudden 20% hike in diesel cost in their stride (fuel costs account for close to a third of the operational expenses of RTCs, which hardly recover their costs yet dole out a plethora of concessions to commuters at the bidding of populist state governments).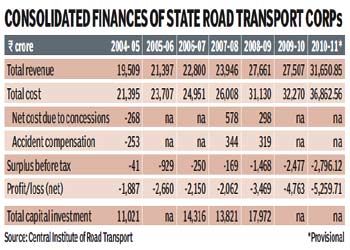 It is clear that the Centres decision to allow state-run oil marketing companies to sell diesel to bulk consumers at market prices (that cover the OMCs costs and mark-ups) has caught most RTC managements off-guard.
Following the decision, RTCs have approached the state governments for succour and the pleas have been heeded: In some cases, maybe, for the good as the response could be in the form of waking up these entities to market realities, but in most cases, with the likely consequence of an exacerbation of their finances and operational standards.
For Congress-run state governments, the immediate reaction is to give their RTCs the assurance that they would try to get the Centres decision revoked or obtain a special waiver.
The Opposition-ruled ones notably the Gujarat and Tamil Nadu governments have sought to defy the Centres policy and allowed RTC buses to make a beeline to public and private-sector oil companies retail outlets, where the prices are 20% less. This has resulted in a surge in retail sales of diesel in many regions.
Tamil Nadu, which has eight state transport corporations operating 21,207 buses, has been more vocal in decrying the Centres policy and has now threatened to challenge it in court. In his customary address in Tamil Nadu assembly on Friday, governor K Rosaiah said: The Centres diesel policy has resulted in a sharp 23.75% increase in the fuel costs again, of Rs.744 crore per annum, adding up to a total annual increase of Rs 1,127 crore within four months, forcing the STUs (state transport undertakings) to the precipice of financial disaster. This government has decided to challenge this dual pricing policy of the central government in the appropriate court as it is against public interest and discriminates against STUs and benefits private operators who continue to enjoy subsidised fuel.
Legal experts say nothing prevents the states from allowing RTCs to buy diesel from retail outlets. There is no illegality in it unless the central government clarifies that bulk consumers cant buy from retail, said senior Supreme Court lawyer CA Sundaram.
Andhra Pradesh State Road Transport Corporation (APSRTC), which has a fleet of nearly 23,000 buses, is facing an additional annual burden of Rs 720 crore in its fuel expenses following the steep hike in diesel price by Rs 11.89 per litre. Prior to the price hike, APSRTC was hoping to reduce its losses substantially this fiscal, despite an increase of 20% in operational costs. It hasnt given up yet and is mulling revenue-enhancing measures. Said AK Khan, vice-chairman and managing director, Though the rate of diesel has increased, necessary alternative steps are being taken to overcome the problem. As part of our strategies, the corporation is in talks with the state government for removal of the VAT (value-added tax) on diesel, MV (motor vehicle) tax and also exemption of toll fees.
APSRTCs annual expenditure on diesel was estimated at Rs 3,260 crore before the price hike. As part of increasing revenues, it plans to maintain punctuality in running its services to lure passengers and increase the occupancy ratio to 78% from the existing 74%. A 1 percentage point increase in the occupancy ratio will boost revenue by Rs 60 crore.
Stating that deregulation of bulk diesel prices has hit the corporation hard, UP State Road Transport Corporation managing director Alok Kumar said that there is an urgent need to prioritise public transport.
We are finding it difficult to meet the costs in the present fare structure. What we need to do immediately is to automatically pass through the fuel cost.
He added that the corporation, on average, has a monthly expenditure of Rs 250 crore, while its average income is Rs 220 crore. UPSTC is deep in the red and faces difficulty even in paying wages. It is taking an overdraft from the banks every month to meet its basic requirements.
Said another UP SRTC official: We need to replace our fleet of buses and the cost of the buses has gone up exponentially in the last decade or so. While on the one hand we do not get any support from the state government in the form of equity contribution, on the other hand the hike in capital cost is not factored into the fare, which takes into account only the cost of wages, spares and fuel. As a result the expenditure on capital become a huge cross to bear, what with the prices of buses going up many times in the last decade or so."
In a recent letter to the state government, the corporation said: "In November 2012, the state government had allowed an increase of 10 paise on every seat for every kilometre. At that time, the cost of diesel was Rs 42.46/litre. But since then the prices of diesel have been revised five times till January this year and the effective increase is Rs 18.11 per litre. However, despite that, there has been no increase in passenger fares. This has put the corporation at a loss of Rs 1 crore daily and if something is not done immediately, the corporation will not be able to sustain the blow."
Following the state governments decision, over 7500 state-owned buses of the Gujarat State Road Transport Corporation (GSRTC) are now buying diesel from retail stations. By buying in the open market, GSRTC pays Rs 52.74/litre for diesel as against Rs 64.74 for bulk diesel. Despite the cost increase, the Gujarat government is not planning to pass it on to the passengers, a decision that might not be in tune with the states reformist credentials. State transport minister Nitin Patel said, "We have taken this decision not to burden passengers with increased fares, but we are open for an increase if the GSRTC proposes one."
A GSRTC official said, We have to compete with private operators and at this rate, our fuel bills will go up by Rs 1 crore on a daily basis. We cant afford such a hike, so will enter into a contract with private (retail) pump owners for saving our passengers from a fare hike."
The diesel price hike has hit the ailing Kerala State Road Transport Corporation (KSRTC) hard, leading to a trimming of its services on many routes. As a temporary measure, the state cabinet has now offered to give Rs 14 crore to KSRTC for the next two months to reduce the impact of the additional fuel bill. The state government says it will send a delegation to Prime Minister Manmohan Singh on this issue, but it remains to be seen if a waiver from the price hike will be given to KSRTC.
For the Centre, of course, the deregulation of bulk diesel would help reduce its subsidy bill. Bulk diesel sales account for a fifth of total diesel consumption in the country, on which the subsidy bill this fiscal is estimated at a whopping Rs 98,000 crore. Apart from RTCs, other main bulk consumers are the railways, diesel-based power plants and the defence department.
(With inputs from Jyotsna Bhatnagar in Ahmedabad and M Sarita Varma in Thiruvananthapuram)